It was a hot one this week! Please drink plenty of water and keep cool! During these hot days the borough has these cooling stations available to you: https://www.newprov.org/2022/07/cooling-stations-available/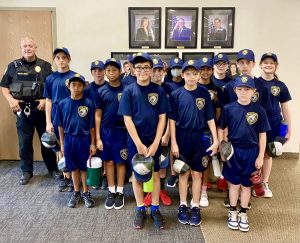 Here is a Catch Up of this Past Week in New Providence and Some of the Many Exciting Things Going On and Upcoming in our Community:
988 is now the official national Suicide and Crisis Lifeline. If you or someone you know is experiencing a mental health crisis call or text 988 anytime anywhere 24/7 for help and support, or just to talk. You're not alone. We're all in this together.
New Traffic Pattern Coming For Pioneer Drive by the High School. Please Review: https://www.newprov.org/2022/07/new-traffic-pattern-coming-for-pioneer-drive-area/
Thank you to our New Providence Police Department for hosting the 2022 Police Youth Academy. It is such an incredible program for rising 6th and 7th graders. Congratulations to the graduates! Thank you to all who supported and participated including our Recreation Department, New Providence Volunteer Fire Department, The Union County Police, The Union County Police Bomb Squad, The Union County Sheriff's K-9 Unit, Norfolk Southern Rail Road Police Officer Tom Jedic, and the Union County SWAT team. Thank you also to the academy staff: Sgt. Wilson, Corporal Hoppe, Det. Carlino, Det. Guerriero and Officer Jeffrey Bruder.
Continue reading