Mayor's Community Update: July 8, 2022
Here is a Catch Up of this Past Week in New Providence and Some of the Many Exciting Things Going On and Upcoming in our Community:
Brush pick up for this week will be completed today Friday, July 8th.
Thank you for a wonderful July 3rd fireworks show after a two year hiatus. The show was one of the best shows ever and the weather could not have been better. It was really great seeing and having friends, families, neighbors, and our community together in celebration of our nation's independence. Thank you to our Borough Council, our Borough Administrator Bernadette Cuccaro, and our Community Activities Director Allison Smith for all their efforts making this event happen for us! Thank you to Mike Savage for DJ'ing and making the event extra fun and engaging, and thank you to all who contributed and participated. Happy Birthday America!
Thank you to the members of "New Providence Intergenerational Club" for helping to unpack many boxes of books and organize the library at the DeCorso Community and Senior Center.
Thank for a great 'Chat with the Mayor' last Friday. Our next Chat with the Mayor is Friday Aug 5th 6:30pm-8pm in the Lincoln Meeting Room Borough Hall.
EMS 2022 Fund Drive – Our EMS is 100% volunteer membership. They truly appreciate your support! Donations are tax deductible. Without YOU, they wouldn't be able to help our community! Thank you! If you would like to contribute please visit www.NewProvidenceEMS.org
Utility Upgrades are continuing around the Borough, expect some delays and detours. Please be patient while this important work continues.
Join Plastic-Free in July – Go to www.plasticfreejuly.org and click on 'Take the Challenge' to help reduce plastic waste.
– – – – – – – – – – – – –
Library:
Did you know that the NP Library has been running a Summer Reading program for over 70 years? They have teen volunteers stationed in the children's room to help award prizes for reading milestones. Come check it out!
Great article in TAP on the NP Library, featuring their annual Summer Reading program, plus lots of other great programs for all ages this month! https://www.tapinto.net/towns/new-providence/sections/arts-and-entertainment/articles/summer-reading-fun-july-programs-in-full-swing-at-the-np-library
School Summer Reading book choices are on display at the NP Library for NP Middle School and High School students. They have links to the school websites where you can get any printouts or handouts that go along with your assignments: https://www.newprovidencelibrary.org/services/teen-services/school-required-reading
And don't forget to register for FUN Summer Reading at the NP Library while you're here! Register online through READsquared and earn points and prizes for doing both school reading and fun reading!
Summer reading is for adults, too! Log up to 6 books to earn prizes from the treasure chest & enter a raffle for a gift card to Coppola's or a gift card to Old Glory. Log your reads at https://newprovidencelibrary.readsquared.com, on the ReadSquared app, or simply fill out a slip at the front desk (adults only, please).
Your library card gets you free access to Comics Plus — thousands of digital comics, graphic novels and manga for adults, teens and children age 5 & up. Every title is always available, on your computer, tablet or phone. To get started, go to http://newprovidencelibrary.org and click on the Resources tab.
Have you made the switch to the Libby app? It offers the best reading experience for all ages and has the same great content you love in the OverDrive app! Get in-app support with any questions you may have. https://www.overdrive.com/apps/libby/switchtolibby
– – – – – – – – – – – – – –
New Providence Historical Society:
ARCHIVE ROOM OPEN THIS SATURDAY – JULY 9
The Archive room of the N.P. Hist. Soc., will be open again, this Saturday; July 9; 11 a.m. – 1 p.m.
We are located at 377 Elkwood Ave., at the rear of the N.P. Memorial Library. Enter main entrance, follow main aisle to rear of library, where you'll see our sign.
Archival photos; Maps; Transcribed Oral Interviews; N.P. history; Obituaries; and more. Come pick up our newsletter, or your own copy of the "Images of America, New Providence" photo book. Feel free to stop in and visit us ! 908 665-1034.
Membership Drive in full swing – please consider joining! https://newprovidencehistorical.com
The Historical Society is looking for Docents for the Salt Box Museum
The New Providence Historical Society is hosting a FREE guided walking cemetery tour of the New Providence Presbyterian Church cemetery July 16th at 1:30pm (Rain or Shine). Cemetery tours are conducted by society member, John Sponauer, who has been conducting research on specific grave sites for months. **All tours are limited to 20 persons. The tours will be approximately 30-45 minutes. Learn about the history of the cemetery, cemetery folklore, visit the final resting places of founding families, and the graves of Revolutionary War soldiers. To reserve your spot please send an email to NPcemeterytours@gmail.com. Include the size of your party. You will receive a confirmation email. ***You must email to reserve your spot*** Footing may be uneven in some areas, so suitable footwear recommended!
See website for full details: https://newprovidencehistorical.com
The New Providence Historical Society also puts out a newsletter called Turkey Tracks: http://newprovidencehistorical.files.wordpress.com/…
– – – – – – – – – – – – – –
Recreation:
Our New Providence Recreation Department Department has many exciting upcoming activities! Read more: www.newprov.org/recreation.
Recreation Community Activities: www.newprov.org/community-events
– – – – – – – – – – – – – – –
COVID Update:
Senior Vaccine Booster Clinic on Wednesday, August 17 at 10am @ DeCorso Center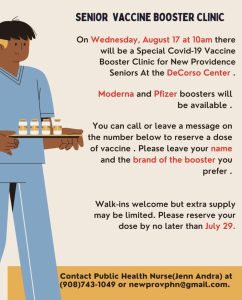 From the CDC: COVID-19 Vaccine Update: Everyone 6 months and older should get vaccinated against COVID-19. Getting vaccinated can help protect you from severe disease, hospitalization, and death from COVID-19. Learn more: https://bit.ly/3CJme0v
Testing is offered at the Union County clinic in the Warinanco Sports Center, located at 1 Park Drive in Warinanco Park, in Roselle. Vaccinations will continue to be offered at the Warinanco Sports Center and at the Union County clinic at Plainfield High School, in Plainfield. Home-bound residents can make an appointment to be vaccinated at home by calling the Union County Office of Health Management at 908-613-7829 during regular weekday business hours, or leave a call-back message after hours. In addition, the Union County mobile vaccination and testing clinics will continue to visit various locations throughout the County. For more information about Union County's testing and vaccination services, including locations and hours of operation, visit www.ucnj.org/covid19.
COVID Dashboard: https://www.nj.gov/…/cd/topics/covid2019_dashboard.shtml.
CDC Booster Information: https://www.cdc.gov/…/2019-ncov/vaccines/booster-shot.html
Emergency Food Distribution for Union County residents: : https://wp.me/p4sLwl-p5E:
DCA's Division of Housing & Community Resources will be accepting pre-applications online for the State Rental Assistance Program waiting list from July 11 to July 22. For information about the SRAP program and eligibility requirements, please visit: bit.ly/3HDA1J6
– – – – – – – – – – – –
UPCOMING:
The next Brough Council Meeting is Tuesday July 19, 2022 7:30pm.
The Art of the Mask is on display for June and July at the New Providence Memorial Library.
Scrap Metal Recycling on July 16th:
Union County Car Truck and Bike Show saluting the County's first responders and front-line heroes will take place on Saturday, July 16 from 11:00 a.m. to 5:00 p.m. at the Oak Ridge Park Sports Complex, located at 136 Oak Ridge Road in Clark. The event is free for all to attend. The event will showcase the Union County Public Safety and EMS fleet and COVID-19 front line responders along with scores of unique and unusual car show vehicles. The rain date for this event is scheduled for Sunday, July 17. https://wp.me/p4sLwl-piM
Concerts in the Park return Thursdays in July! Summer Family Concerts: New Providence Business is proud to present three FREE summer concerts offering music and entertainment for the whole family. The free concerts start at 7 PM and will also feature a magician to entertain the kids. Prestige Diner is generously donating free hot dogs that the NP Lions Club will cook and serve, and Zita's Homemade Ice Cream is generously donating free ice cream for all to enjoy.
The 2022 concert dates are:
Thursday, July 14 – Asbury Fever Band
Thursday, July 21 – Kinderhook
Thursday, July 28 – Kootz
National Night Out, Concert and Fireworks – Tuesday, August 2nd: Sponsored by New Providence PBA Local 132 and the New Providence Business Community. This event is at 7 PM at the New Providence High School. National Night Out is an annual community-building campaign that promotes police-community partnerships and neighborhood camaraderie. First responders including police, firefighters, and EMS display their equipment and interact with the community. This is an opportunity for the entire family to meet not only the people who serve and protect them, but also the local businesses and organizations that help our town thrive.
The Next 'Chat with the Mayor' is Friday Aug 5th 6:30pm-8pm in the Lincoln Meeting Room Borough Hall.
Senior Vaccine Booster Clinic on Wednesday, August 17 at 10am @ DeCorso Center
From the State of New Jersey: From August 27th to September 5th, New Jersey will have a back-to-school sales tax holiday – cutting the cost on: school supplies, school art supplies, school instructional materials, computers, school computer supplies
Our Annual Freecycle-Fest Event hosted by our Sustainability Committee will be held on September 17, 2022 (rain date Sept 18, 2022) at the New Providence Community Pool parking lot from 9am – 2pm. This is an opportunity to bring unwanted items to a central location in New Providence for "recycling" with other families. In the past this Freecycle Event has been held simultaneously with the Green Fair. However, the two events will be held on separate dates this year. Thank you to the Sustainability Committee for their good work on this for our community.
See Calendar for more Upcoming Community Events: https://www.mayoralmorgan.com/home/events-calendar/
– – – – – – – – – – – – – – –
Mental Health Awareness: New Providence Cares About Your Mental Wellness
The New Providence Mental Health Advocacy and Education Committee is spearheaded by Council President Nadine Geoffroy and Councilwoman Lisa McKnight. The committee mission statement: "The goal of the committee is to reduce the stigma of mental health within the community by promoting understanding through education, advocacy, raising awareness and connecting people to resources to get them hope and help."
The committee has several objectives and projects including lawn signs promoting mental health awareness. The committee also partnered with the high school and handed out green ribbons to students. The borough poles were decorated with the green ribbons in recognition of Mental Health Awareness during the month of May. For more information please contact Nadine Geoffroy at ngeoffroy@newprov.org.
If you need help please call 866.202.HELP (4357) for free & anonymous emotional support 8am-8pm
National Suicide Prevention Lifeline Available 24 hours 800-273-8255
Crisis text line 741741
On July 16th, 988 will become the national dialing code for people experiencing a mental health crisis. By dialing 9-8-8, you can be connected to suicide prevention and health crisis counselors 24/7. To learn more about the 988 system in NJ, please watch this presentation created by the Division of Mental Health and Addiction Services: https://www.youtube.com/watch?v=ZuKhq-VPVjU
Veterans are invited to a bi-monthly, veteran-run peer support & discussion group, Warriors Welcome. This group is no-cost, confidential and a judgment-free zone. They meet every 1st and 3rd Friday: bit.ly/WarriorsWelcomeNJ.
Virtual Muslim Mental Health community group meets Sundays 7pm. Join for a discussion of mental health concerns, wellness goals, and more. Newcomers welcome! bit.ly/MuslimGroupNJ
– – – – – – – – – – – – – – –
Quick Links:
Council Meeting in Minute: https://www.newprov.org/2022/06/council-meeting-in-a-minute-june-28-2022
Borough Council Meetings: youtube.com/channel/UCZzCgFvlBgpSfW-JEVRMXsA
Borough Contact Information and Action Line: www.newprov.org/citizen-action-line
New Providence (Mailed) Calendar: https://www.newprov.org/download/Borough%20Newsletters/2022/2022-Annual-Calendar-most-recent.pdf
NPHS Athletics Calendar: https://sites.google.com/npsdnj.org/nphs-athletics/athletic-schedule
NPTV Schedule: www.sites.google.com/npsdnj.org/cook-nptv/nptv-schedule
Public Works: www.newprov.org/department-of-public-works
Recycle Coach: www.newprov.org/recycle-coach
Senior Citizen Bus: Transportation (with pick up at your home) is available for residents 55+ to ShopRite every Tuesday morning at 8am. Please call the Center at (908) 665-0046 by Monday morning to sign up or for more information.
Smart911 Community Alert System: newprov.org/2022/04/register-today-for-smart-911
Turkey Tracks Newsletter of the New Providence Historical Society: http://newprovidencehistorical.files.wordpress.com/…
– – – – – – – – – – – – – – –
Missed an update? Mayor's Community Updates can be found on the Borough website and at https://www.mayoralmorgan.com/…/community-updates…
– – – – – – – – – – – – – – –
Keep informed with Borough information:
Website – newprov.org
Facebook – @newprovnj
Twitter – @newprovnj
– – – – – – – – – – – – – – –
FUN FACT: We were all on the side of the Earth (Friday 7/8/22 at 7:15am) facing the sun, meaning all of us will be experiencing some degree of sunlight at the same time!
Please feel free to contact me anytime about any issue. Your concerns are my concerns. We are here to serve you. We are a team effort here in NP! Thank you to our outstanding Borough Council, our dedicated administration, employees and staff, our selfless volunteers, and to all of you for making our community such an incredible place. Please be sure to support all our wonderful local establishments and SHOP NP! Have a great weekend and week ahead! HAPPY We are Pioneer Strong!