Our Community
A Brief History of New Providence…
 New Providence began in 1664 when James, Duke of York, and brother to King Charles II, purchased the land that became known as the Elizabethtown Tract from the Lenape Native Americans.  Its first European settlers were members of a Puritan Colony established in 1720, which was the first permanent settlement of its type. The settlement was originally called "Turkey", due to the presence of wild turkeys in the area.
The Presbyterian Church established in 1737 and was a focal point for the community. When the church's balcony collapsed in 1759 with no serious injuries,  the incident was deemed a "divine providence", leading residents to change the community's name to New Providence.
On April 14, 1794, Springfield Township was formed, which included the present-day township, along with the towns of Summit, New Providence, and Berkeley Heights. Growth continued in the area, and on November 8, 1809, New Providence Township was formed from within Springfield Township. It included what is now Summit, New Providence, and Berkeley Heights. On March 23, 1869, Summit withdrew from the New Providence Township and reincorporated as a township without any other town. On March 14, 1899, New Providence also withdrew from New Providence Township and was reincorporated as a borough. 
New Providence Today…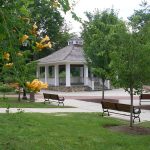 New Providence is a borough on the northwestern edge of Union County, New Jersey, United States. It is located on the Passaic River, which forms the county boundary with Morris County. Nestled in the Watchung Mountains, New Providence is home to over 13,000 residents within its 3.6 square miles. New Providence is a family friendly, diverse community of  beautiful residential neighborhoods, top rated school system, well-appointed recreation facilities, and beautifully maintained parks.  New Providence boasts a vibrant downtown and active business community, as well as two full service train stations. New Providence is known for its close-knit and active community. Nice Place – Nice People.