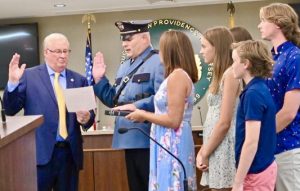 By MARIANNE IVERS in TAPinto New Providence
NEW PROVIDENCE, NJ – Daniel Henn was sworn in as Police Chief at the Tuesday, Aug. 16 Council meeting. The council also appointed three new officers: Carly Bouman and Marcos Martinez as Probationary Police Officers and Robert Moran as a Class III Special Law Enforcement Officer.
The packed council room of family and friends of Henn and the new officers witnessed the swearing-in ceremony officiated by Mayor Al Morgan. Among the attendees were Assemblywoman Michele Matsikoudis, Former Council Presidents Michael Gennaro and Robert Robinson, as well as former New Providence Police Chief and Borough Administrator Douglas Marvin.
Continue reading