Police Chief Daniel Henn Sworn-in; Three New Police Officers Appointed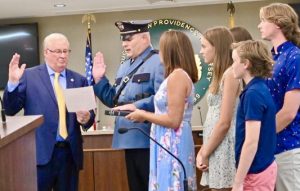 By MARIANNE IVERS in TAPinto New Providence
NEW PROVIDENCE, NJ – Daniel Henn was sworn in as Police Chief at the Tuesday, Aug. 16 Council meeting. The council also appointed three new officers: Carly Bouman and Marcos Martinez as Probationary Police Officers and Robert Moran as a Class III Special Law Enforcement Officer.
The packed council room of family and friends of Henn and the new officers witnessed the swearing-in ceremony officiated by Mayor Al Morgan. Among the attendees were Assemblywoman Michele Matsikoudis, Former Council Presidents Michael Gennaro and Robert Robinson, as well as former New Providence Police Chief and Borough Administrator Douglas Marvin.
Henn took the top position at the New Providence Police Department on August 1 upon the retirement of Chief Theresa Gazaway, from whom he said he "learned a lot." He holds a Bachelor of Science degree in Finance from Marist College and he graduated from the John H. Stamler Police Academy in 1999. He is certified as an Alcotest operator, accident investigator, radar operator, as well as CPR and AED operator. He has formerly served as the Terminal Agency Coordinator, Alcotest coordinator and was trained as a Drug Recognition Expert and a DARE officer. He is also certified in Methods of Instruction, and previously taught new police recruits at the John H. Stamler Police Academy, focusing on report writing and patrol practices. After swearing-in Henn complemented the New Providence Police Department and envisioned "a great future ahead." Morgan also noted that the borough is "truly blessed" for having such an extraordinary police department.