Mayor's Community Update: July 1, 2022
Happy July! Here is a Catch Up of this Past Week in New Providence and Some of the Many Exciting Things Going On and Upcoming in our Community: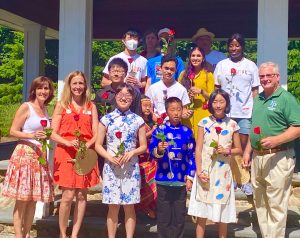 Congratulations to all our graduates! It's been a great year! We wish all the very best and a great start on the next chapter of their lives!
New traffic ordinances have been introduced at the June 28th Council Meeting and will be posted in detail on the borough website shortly. A full presentation will be given at the July 19th Council Meeting.
The Borough will be receiving $223,000 for Safe Routes to School Grant.
A cooperative agreement with Union County was adopted to receive funding as an Urban Center. We will receive a grant of $50,000 to be used toward roof replacement at DeCorso Center.
Resolutions were passed regarding engineering services for updates to roads and bridges. The borough will be reimbursed on many of these from FEMA related to Storm Ida.
The Municipal Alliance received $10,394 for its programs for 2022-2023.
Job Postings – Road person and Part time custodian for DeCorso Center and Library: https://www.newprov.org/employment/
The bidding process was authorized for a recycling contract. This should present a challenge as the cost of recycling has greatly increased and the number of providers has decreased.
The 2022 bulk collection has been completed. Please do not place any additional items at the curb – they will NOT be collected. You may bring certain items to the DPW yard on the first and third Sat. of each month. See the mailed 2022 Calendar for details: https://www.newprov.org/download/Borough%20Newsletters/2022/2022-Annual-Calendar-most-recent.pdf
We welcomed Tropical Cafe Smoothie and Juice Bar to New Providence with a Ribbon Cutting. They are located at 1271 Springfield Ave. Please support local and SHOP NP!
The New Providence Radio Club held their Annual Field Day at Governor Livingston. It was a nice event!
Thank you to our Diversity Committee, students, all the volunteers, New Providence Recreation Department, and participants for such a wonderful community event celebrating Race Unity Day! It was truly a wonderful celebration of the unity of our human family.
We attended and loved "The Art of the Mask" Community Art Show hosted by the Friends of the Library. They have some truly wonderful and creative exhibits. "The Art of the Mask" is on display for June and July at the library.
Gene Pantalone of New Providence will be inducted into NJ Boxing Hall of Fame: https://rennamedia.com/gene-pantalone-to-be-inducted-into-njfhof/
Congratulations to rising NPHS junior students AJ Boyle and Valmik Nahata who successfully placed in the top 10 in the nation at the Software Development competition at TSA Nationals in Texas this week! This is especially momentous given that there are over 5,000 attendees at this conference! The Technology Student Association (TSA) is a national organization of students engaged in STEM (science, technology, engineering, and mathematics). Congratulations! You make New Providence Proud!
The Next 'Chat with the Mayor' is today Friday July 1st 6:30pm-8pm in the Lincoln Meeting Room Borough Hall.
Access to some of the Borough's online application forms will be temporarily unavailable from today Friday July 1st through Monday July 4th for system upgrades and maintenance. These forms include resident and non-resident parking permit applications, Vital Statistics applications, Dog/Cat License applications, OPRA Requests, and Facility Usage requests. We apologize for the inconvenience.
July 3rd fireworks return after a two year hiatus. They will start about 9:30pm Sunday near South Street and should be visible from most locations within the borough, so grab your lawn chair or blankets and settle into your favorite viewing spot around town. (Please note: the roads will not be closed off for this event. This will only be a fireworks show this year). We hope to bring back the full July 3rd extravaganza next year. Bring the family and enjoy!
Utility Upgrades are continuing around the Borough. Please continue to expect some delays and detours. We continually communicate on our end with the utility companies to find out when/where they are coming and continually inform them of best times (least traffic disruption) and paving schedules etc. Despite our best efforts the utility companies unfortunately are often not always the best at keeping us informed when/where they will be working or for how long. Please be patient while this important work continues.
From FEMA: Climate change, extreme rainfall, and flooding events are becoming more common. This hurricane season, we encouraging everyone to learn more about their flood risk and take actions now to be prepared. Learn more about flood insurance here: floodsmart.gov/
– – – – – – – – – – – – –
Library:
The library is closed Sundays in the summer (began June 19th).
The Lions' Den: The Lions' Den is a newly created reading area for seniors located near the art display at the New Providence Memorial Library. This senior reading area has two comfortable chairs specially designed for stability and ease of access, and two combination light/magnifying glass stanchions which allow for reading a whole page at one time with focused lighting and magnification of type face. The New Providence Lions Club along with the Friends of the New Providence Library donated funds to create this area for New Providence seniors.
This year's Community Art Show theme is The Art of the Mask. They have some wonderfully creative work featuring masks of all kinds. Please stop by to see the art! The Art of the Mask is on display for June and July.
Have you made the switch to the Libby app? It offers the best reading experience for all ages and has the same great content you love in the OverDrive app! Get in-app support with any questions you may have. https://www.overdrive.com/apps/libby/switchtolibby
– – – – – – – – – – – – – –
New Providence Historical Society:
Membership Drive in full swing – please consider joining! https://newprovidencehistorical.com
The Historical Society is looking for Docents for the Salt Box Museum
The New Providence Historical Society is hosting a FREE guided walking cemetery tour of the New Providence Presbyterian Church cemetery July 16th at 1:30pm (Rain or Shine). Cemetery tours are conducted by society member, John Sponauer, who has been conducting research on specific grave sites for months. **All tours are limited to 20 persons. The tours will be approximately 30-45 minutes. Learn about the history of the cemetery, cemetery folklore, visit the final resting places of founding families, and the graves of Revolutionary War soldiers. To reserve your spot please send an email to NPcemeterytours@gmail.com. Include the size of your party. You will receive a confirmation email. ***You must email to reserve your spot*** Footing may be uneven in some areas, so suitable footwear recommended! They have a few spots left!
See website for full details: https://newprovidencehistorical.com
The New Providence Historical Society also puts out a newsletter called Turkey Tracks: http://newprovidencehistorical.files.wordpress.com/…
– – – – – – – – – – – – –
Public Art:
The NP Public Art Committee recently installed a new sculpture in Harmony Park (which is adjacent to Veterans Park on South Street) titled Green Sculpture by artist Richard Pitts. It is a beautiful addition to our town. Please go take a look!
The NP Public Art Committee recently honored and celebrated the lifework of Marjan Nirou Saniee and Artist Bob Hill
– – – – – – – – – – – – – –
Recreation:
Our New Providence Recreation Department Department has many exciting upcoming activities! Read more: www.newprov.org/recreation.
Recreation Community Activities: www.newprov.org/community-events
– – – – – – – – – – – – – – –
COVID Update:
From the CDC: COVID-19 Vaccine Update: Everyone 6 months and older should get vaccinated against COVID-19. Getting vaccinated can help protect you from severe disease, hospitalization, and death from COVID-19. Learn more: https://bit.ly/3CJme0v
Union County residents are advised that Union County's free COVID-19 testing and vaccination clinics at Downs Hall on the Kean University campus closed at the end of June. The testing and vaccination services will continue at other locations around the County. Testing will continue to be offered at the Union County clinic in the Warinanco Sports Center, located at 1 Park Drive in Warinanco Park, in Roselle. Vaccinations will continue to be offered at the Warinanco Sports Center and at the Union County clinic at Plainfield High School, in Plainfield. Home-bound residents can make an appointment to be vaccinated at home by calling the Union County Office of Health Management at 908-613-7829 during regular weekday business hours, or leave a call-back message after hours. In addition, the Union County mobile vaccination and testing clinics will continue to visit various locations throughout the County. For more information about Union County's testing and vaccination services, including locations and hours of operation, visit www.ucnj.org/covid19.
COVID Dashboard: https://www.nj.gov/…/cd/topics/covid2019_dashboard.shtml.
CDC Booster Information: https://www.cdc.gov/…/2019-ncov/vaccines/booster-shot.html
Emergency Food Distribution for Union County residents: : https://wp.me/p4sLwl-p5E:
DCA's Division of Housing & Community Resources will be accepting pre-applications online for the State Rental Assistance Program waiting list from July 11 to July 22. For information about the SRAP program and eligibility requirements, please visit: bit.ly/3HDA1J6
– – – – – – – – – – – –
UPCOMING:
The next Brough Council Meeting is Tuesday July 19, 2022 7:30pm.
The Art of the Mask is on display for June and July at the New Providence Memorial Library.
The Borough will be hosting and sponsoring July 3rd FIREWORKS in celebration of our Country's Independence 9:30pm.
Scrap Metal Recycling on July 7th and July 16th:
Concerts in the Park return Thursdays in July! Summer Family Concerts: New Providence Business is proud to present three FREE summer concerts offering music and entertainment for the whole family. The free concerts start at 7 PM and will also feature a magician to entertain the kids. Prestige Diner is generously donating free hot dogs that the NP Lions Club will cook and serve, and Zita's Homemade Ice Cream is generously donating free ice cream for all to enjoy.
The 2022 concert dates are:
Thursday, July 14 – Asbury Fever Band
Thursday, July 21 – Kinderhook
Thursday, July 28 – Kootz
National Night Out, Concert and Fireworks – Tuesday, August 2nd: Sponsored by New Providence PBA Local 132 and the New Providence Business Community. This event is at 7 PM at the New Providence High School. National Night Out is an annual community-building campaign that promotes police-community partnerships and neighborhood camaraderie. First responders including police, firefighters, and EMS display their equipment and interact with the community. This is an opportunity for the entire family to meet not only the people who serve and protect them, but also the local businesses and organizations that help our town thrive.
The Next 'Chat with the Mayor' is Friday Aug 5th 6:30pm-8pm in the Lincoln Meeting Room Borough Hall.
From the State of New Jersey: From August 27th to September 5th, New Jersey will have a back-to-school sales tax holiday – cutting the cost on: school supplies, school art supplies, school instructional materials, computers, school computer supplies
Our Annual Freecycle-Fest Event hosted by our Sustainability Committee will be held on September 17, 2022 (rain date Sept 18, 2022) at the New Providence Community Pool parking lot from 9am – 2pm. This is an opportunity to bring unwanted items to a central location in New Providence for "recycling" with other families. In the past this Freecycle Event has been held simultaneously with the Green Fair. However, the two events will be held on separate dates this year. Thank you to the Sustainability Committee for their good work on this for our community.
See Calendar for more Upcoming Community Events: https://www.mayoralmorgan.com/home/events-calendar/
– – – – – – – – – – – – – – –
Mental Health Awareness: New Providence Cares About Your Mental Wellness
The New Providence Mental Health Advocacy and Education Committee is spearheaded by Council President Nadine Geoffroy and Councilwoman Lisa McKnight. The committee mission statement: "The goal of the committee is to reduce the stigma of mental health within the community by promoting understanding through education, advocacy, raising awareness and connecting people to resources to get them hope and help."
The committee has several objectives and projects including lawn signs promoting mental health awareness. The committee also partnered with the high school and handed out green ribbons to students. The borough poles were decorated with the green ribbons in recognition of Mental Health Awareness during the month of May. For more information please contact Nadine Geoffroy at ngeoffroy@newprov.org.
If you need help please call 866.202.HELP (4357) for free & anonymous emotional support 8am-8pm
National Suicide Prevention Lifeline Available 24 hours 800-273-8255
Crisis text line 741741
On July 16th, 988 will become the national dialing code for people experiencing a mental health crisis. By dialing 9-8-8, you can be connected to suicide prevention and health crisis counselors 24/7. To learn more about the 988 system in NJ, please watch this presentation created by the Division of Mental Health and Addiction Services: https://www.youtube.com/watch?v=ZuKhq-VPVjU
Veterans are invited to a bi-monthly, veteran-run peer support & discussion group, Warriors Welcome. This group is no-cost, confidential and a judgment-free zone. They meet every 1st and 3rd Friday: bit.ly/WarriorsWelcomeNJ.
Virtual Muslim Mental Health community group meets Sundays 7pm. Join for a discussion of mental health concerns, wellness goals, and more. Newcomers welcome! bit.ly/MuslimGroupNJ
– – – – – – – – – – – – – – –
Quick Links:
Council Meeting in Minute: https://www.newprov.org/2022/06/council-meeting-in-a-minute-june-28-2022
Borough Council Meetings: youtube.com/channel/UCZzCgFvlBgpSfW-JEVRMXsA
Borough Contact Information and Action Line: www.newprov.org/citizen-action-line
New Providence (Mailed) Calendar: https://www.newprov.org/download/Borough%20Newsletters/2022/2022-Annual-Calendar-most-recent.pdf
NPHS Athletics Calendar: https://sites.google.com/npsdnj.org/nphs-athletics/athletic-schedule
NPTV Schedule: www.sites.google.com/npsdnj.org/cook-nptv/nptv-schedule
Public Works: www.newprov.org/department-of-public-works
Recycle Coach: www.newprov.org/recycle-coach
Senior Citizen Bus: Transportation (with pick up at your home) is available for residents 55+ to ShopRite every Tuesday morning at 8am. Please call the Center at (908) 665-0046 by Monday morning to sign up or for more information.
Smart911 Community Alert System: newprov.org/2022/04/register-today-for-smart-911
Turkey Tracks Newsletter of the New Providence Historical Society: http://newprovidencehistorical.files.wordpress.com/…
– – – – – – – – – – – – – – –
Missed an update? Mayor's Community Updates can be found on the Borough website and at https://www.mayoralmorgan.com/…/community-updates…
– – – – – – – – – – – – – – –
Keep informed with Borough information:
Website – newprov.org
Facebook – @newprovnj
Twitter – @newprovnj
– – – – – – – – – – – – – – –
Please feel free to contact me anytime about any issue. Your concerns are my concerns. We are here to serve you. We are a team effort here in NP! Thank you to our outstanding Borough Council, our dedicated administration, employees and staff, our selfless volunteers, and to all of you for making our community such an incredible place. Please be sure to support all our wonderful local establishments and SHOP NP! We wish you a very happy 4th of July weekend! HAPPY INDEPENDENCE DAY AMERICA! We are Pioneer Strong!
– Mayor Al Morgan