Mayor's Community Update: August 12, 2022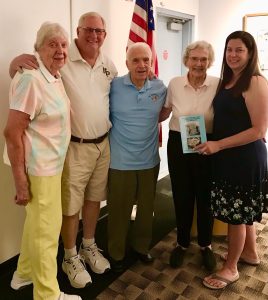 Here is a Catch Up of this Past Week in New Providence and Some of the Many Exciting Things Going On and Upcoming in our Community:
We really enjoyed the new displays at our library! Please try to stop by to see them! Thank you to our Historical Society and to our Friends of the Library.
Utility Upgrades are continuing around the Borough, expect some delays and detours. Please be patient while this important work continues.
The new traffic pattern on Pioneer Drive and Balcom Drive began Monday. Please be aware of new road striping patterns.
Traffic Pattern Change Packet: https://www.newprov.org/download/Police%20Department/high_schoolmiddle_school_traffic_plan_documents/Traffic-Pattern-Change-Packet-for-Parents.Students.pdf
NJ American Water Voluntary Conservation Notice:
Odd/even Guidelines:
* Outdoor water use on odd-numbered days of the month if your street address is an odd number
* Outdoor water use on even-numbered days of the month if your street address is an even number
* Water early or late in the day to minimize evaporation
Exceptions:
* Watering of new sod or seed if daily watering is required (Note: it is recommended that any planting of new sod or seed that has not already taken place be delayed until the fall)
* Use of private wells for irrigation
* Commercial uses of outdoor water, such as for nurseries, farm stands, power washing, plumbing, athletic fields, and car washes
* Watering of athletic fields
Additional tips and information on wise water use are available on New Jersey American Water's website at www.newjerseyamwater.com under Water Information.
Lanternflies: Residents can help fight back against the spotted lanternfly by destroying the destructive pest. For more information, including photos of the spotted lanternfly and its eggs at various stages, please visit the New Jersey Division of Agriculture at nj.gov/agriculture. Additional information is also available from Rutgers University at njaes.rutgers.edu/spotted-lanternfly. Sightings of the insect should be reported to Rutgers University through the online reporting tool. Union County is one of three counties in New Jersey participating in a U.S. Department of Agriculture research project to assess various methods of mitigating the spotted lanternfly invasion.
– – – – – – – – – – –
LET'S GO GREEN NP:
Please be sure you are signed up for our Recycle Coach: www.newprov.org/recycle-coach
Free Shred and Recycle Your Personal Documents in August: Union County's free shredding program visits Kean University, August 13 9am-1pm rain or shine. Union County residents can bring their personal documents and sensitive papers to the next free paper shredding event on Saturday, August 13 in the Kean Hall parking lot at Kean University, located at 1000 Morris Avenue in Union Township.Participants are reminded pre-shredded, damp, or wet paper will not be accepted. Bindings, large plastic or metal clips, and other paraphernalia should be removed. These events are drive-up only and contact-free. Drivers must remain in their cars while staff unloads their papers, which are shredded on site in a mobile shredding truck. Union County's free shedding events are intended for personal, sensitive documents only. Residents can recycle magazines, junk mail and other waste paper with their municipal recycling program. Additional free shredding events are scheduled for September and October, after which the program will go on winter hiatus. The last event of the season will take place on October 29. For the complete 2022 paper shredding schedule, and for information on all recycling programs hosted by Union County, visit ucnj.org/recycle or call the Union County Recycling Hotline at 908-654-9889.
Free Scrap Metal Recycling for Union County Residents August 20 9am-12pm: Union County residents with old metal gutters, fencing, or appliances to dispose of can bring these items and more to free scrap metal recycling drop-off sites in August. The scrap metal recycling program is sponsored by the Union County Board of County Commissioners and takes place twice each month from April to November. Acceptable items for recycling include air conditioners, aluminum scrap, aluminum siding, bicycles, brass, copper, dishwashers, electric fans, fencing (chain/wire), freezers, gutters, irons, lawn furniture, metal cabinets, metal sheds, microwaves, pots and pans, railings, refrigerators, stoves, tire rims, toasters, washers and dryers, window frames (no glass), and wire hangers.Scrap metal drop-off will be accepted Saturday, August 20th from 9:00am to 12:00pm at two free drop-off centers:
* Cranford: Emergency Services Building, 151 Kenilworth Boulevard
* Rahway: Rahway River Park (follow Park Drive, Rahway off St. Georges Avenue to service yard across from swimming pool)
Scrap metal from residents in any Union County municipality may be brought to either of these sites. The next scrap metal events will take place on Thursday, September 1 and Saturday, September 17. Please note that Union County's scrap metal recycling events are drive-up only, and contact-free. Participants must remain in their vehicles at all times. Materials should be placed in trunk, cargo area or truck bed and be easily accessible for staff to remove. For more information, upcoming dates and directions to all Union County recycling programs and locations, visit the Bureau of Recycling and Planning website at ucnj.org/recycle or call the Union County Recycling Hotline at 908-654-9889. To receive schedule alerts, and to stay up to date with Union County and local recycling programs, download the free Recycle Coach mobile app.
Quick links to all Union County environmental programs and activities are available at The Green Connection: ucnj.org/green-connection.
Annual Freecycle-Fest Event hosted by our Sustainability Committee will be held on September 17, 2022 (rain date Sept 18, 2022) at the New Providence Community Pool parking lot from 9am – 2pm. This is an opportunity to bring unwanted items to a central location in New Providence for "recycling" with other families. In the past this Freecycle Event has been held simultaneously with the Green Fair. However, the two events will be held on separate dates this year. Thank you to the Sustainability Committee for their good work on this for our community.
– – – – – – – – – – – – –
NEW PROVIDENCE MEMORIAL LIBRARY:
August 9th was National Book Lovers Day!
The Friends of the New Providence Memorial Library are excited to present the works of Julie Harris in the Conti Family Community Room and the front reading area. Her most recent works focus on clothing as art objects, some even formed from handmade paper, creating an interplay of juxtaposed images and objects that are printed or sewn into the clothing. The handmade paper gown series addresses the innocence and purity of a child's spirit. Translucent and diaphanous handmade paper has random texture and thickness, making these gowns very delicate.
Movie Day every Wednesday afternoon in August: Moana, Little Mermaid, Free Willy, and Dolphin Tale 1 and 2.
Please see all the wonderful events planned on the Library Events Calendar: https://www.newprovidencelibrary.org/events/library-calendar/month.calendar/2022/08/15/13
Your library card gets you free access to Comics Plus — thousands of digital comics, graphic novels and more for adults, teens and children age 5 & up. Every title is always available, on your computer, tablet or phone. To get started, go to http://newprovidencelibrary.org and click on the Resources tab.
Have you made the switch to the Libby app? It offers the best reading experience for all ages and has the same great content you love in the OverDrive app! Get in-app support with any questions you may have. https://www.overdrive.com/apps/libby/switchtolibby
– – – – – – – – – – – – – –
FIRETRUCK FRIDAY
Last week's #firetruckfriday, our New Providence Volunteer Fire Department covered all things rescue; highlighting two rescue apparatus. These two apparatus are the oldest in the fleet; Engine 1 a 2001 and Rescue 8 a 1997. Engine 1 and Rescue 8 respond to all rescue and extrication calls in town as well as specialized incidents such as hazardous materials emergencies, major storm responses and technical rescues. In the mid 2000s, the department recognized the wider variety of call types both being responded to, or potentially being responded to within the changing borough thus expanding our rescue capabilities.
Engine 1 is a Pierce Quantum specifically equipped to handle both fire suppression as well as rescue with:
-Detroit Series 60 engine
-Allison HD 4060PR automatic transmission
-1500 GPM Waterous 2 Stage Pump
-On board generator
-750 gallon water tank
-60 gallon foam tank
-On board hydraulic tools such as spreaders and shears
-On board speedy-dry tank
-Stabilization Equipment
Rescue 8 is a Ford Box truck added to house additional rescue equipment with:
-7.0L Ford V8
-Automatic transmission
-Auxiliary water pumps
-Auxiliary generators
-Haz-mat equipment
-Additional specialized rescue equipment beyond the capacity and scope of Engine 1 (water rescue, confined space, building stabilization, fire rehab and more)
Our New Providence Volunteer Fire Department looks forward to sharing more about their apparatus and equipment! Visit their Facebook page for photos and for more information: https://www.facebook.com/NewProvidenceFire
– – – – – – – – – – – – – – –
NEW PROVIDENCE HISTORICAL SOCIETY:
Did you know that in the early 1900's New Providence had a semi professional baseball team called the Crescents? The navy & white Crescents were organized by the New Providence Athletic Association. Stop by the New Providence Memorial Library during the month of August to see the Historical Society display on NP Baseball ⚾️! Take a glimpse into New Providence baseball history with old photos, uniforms, trophies and accessories. Compare a current New Providence High School uniform, polyester and sleeveless, to a 1929 heavy wool Crescents uniform. Or learn about the team coach and league commissioner Mr A. G. Balcom and his "boater" hats.
Turkey Tuesday Trivia: To get help with your answer visit the Historical Society display on New Providence baseball history at the New Providence Memorial Library. The display is only up for the month of August so don't miss it!
The New Providence Historical Society hosts cemetery tours at the New Providence Presbyterian Church. The summer tours have concluded but will return October 15th at 1pm and 2pm for Union County's Four Centuries Weekend. John Sponauer, New Providence Historical Society member, researcher, and tour guide educates attendees on the difference between a cemetery and a graveyard, shares many interesting and intriguing historical facts, cemetery folklore, and shows the final resting places of some of the New Providence founding families and Revolutionaries. It is a really great tour and I highly recommend it! Tours are limited to 20 persons. The tours are approximately 30-45 minutes. To reserve your spot please send an email to NPcemeterytours@gmail.com. Indicate the date/time you wish to attend along with the size of your party. You will receive a confirmation email. ***You must email to reserve your spot*** Please Note: Footing may be uneven in some areas, so suitable footwear recommended!
Please Support our New Providence Historical Society. They are always looking for people who have an interest in local history, an interest in joining and supporting their mission. For more information and/or to donate please visit https://newprovidencehistorical.com/about/
The Historical Society is looking for Docents for the Salt Box Museum.
The New Providence Historical Society also puts out a newsletter called Turkey Tracks: https://newprovidencehistorical.files.wordpress.com/2022/03/turkeytracks-issue129.pdf
– – – – – – – – – – – – – –
RECREATION:
Checkout all of the New Providence Recreation Department Fall offerings for Youth and Adults: https://www.newprov.org/recreation/
Recreation Community Events: www.newprov.org/community-events
– – – – – – – – – – – – – – –
HEALTH & WELLNESS:
Monkey Pox Update:
Monkeypox is less transmissible than covid, but the health department is recommending that anyone at increased risk for contracting monkeypox consider vaccination. Those at increased risk include: People who have known contact with someone who tested positive for orthopoxvirus or monkeypox virus within past 14 days (contact your local health department to coordinate vaccination). People who attended an event where known monkeypox exposure occurred within 14 days (make an appointment at a vaccine location). People who identify as gay, bisexual, or men who have sex with men (MSM), and/or transgender, gender non-conforming, or gender non-binary and who have a history of multiple or anonymous sex with partners within past 14 days (make an appointment at a vaccine location). Individuals that are interested in pre-exposure vaccination can contact the following programs. Vaccination at these sites is by appointment only:
Bergen New Bridge Medical Center
Location: Annex 2 (white tent structure), 230 East Ridgewood Ave, Paramus
Phone: 800-730-2762
Website: www.newbridgehealth.org
Cooper Vaccine & Testing Clinic, Cooper University Hospital
Location: 300 Broadway, Camden
Phone: 856-968-7100
Hours: Monday-Thursday, 7am-8pm and Friday, 7am-5pm
Website: https://my.cooperhealth.org/mychart/authentication/login
Hyacinth AIDS Foundation/Project Living Out Loud!
Location: Jersey City
Phone: 201-706-3480
The Prevention Resource Network, a program of the Visiting Nurse Association of Central Jersey
Location: Asbury Park
Website: www.prnvnacj.org/
North Jersey Community Research Initiative (NJCRI)
Location: Newark
Phone: 973-483-3444 ext. 200
More information on MPX can be found here. https://www.nj.gov/health/cd/topics/monkeypox.shtml
Two vaccines can be used for preventing monkeypox infection. CDC recommends vaccination for people who might have been exposed to monkeypox. Learn more: https://bit.ly/3AftSRE.
COVID Update:
Union County's free COVID-19 vaccination program has expanded to offer the Novavax vaccine, approved for ages 18 and older. The Union County vaccination program also continues to offer the Pfizer, Moderna, and Johnson & Johnson vaccines approved for various age groups including infants age 6 months and up. The Novavax vaccine has been approved for ages 18 years and older. The Union County vaccination program will provide it in a two-dose series, given 21 days apart, as advised by the U.S. Centers for Disease Control. Novavax, along with other COVID-19 vaccines, will be provided at two Union County clinics: Warinanco Park in Roselle and Plainfield High School. To make an appointment for a vaccination at either the Warinanco or Plainfield clinics, create an account or log into an existing account through Union County's vaccination portal, ucnj.org/covid19. If additional assistance is needed call 908-613-7829. Walk-ups for booster shots for all eligible age groups are welcome at both the Warinanco Sports Center and Plainfield High School sites, but appointments are encouraged. Home-bound residents may be eligible for a home vaccination visit. To make an appointment, call the Union County Office of Health Management at 908-613-7829 during regular weekday business hours, or leave a call-back message after hours. For details about Union County's mobile COVID-19 vaccination services, testing, clinics, including locations and hours of operation please visit www.ucnj.org/covid19.
BA.5: This new mutation of the COVID-19 virus appears to be spreading quickly and has become the dominant strain in our area. UNION COUNTY HAS MOVED INTO THE HIGH COMMUNITY LEVEL. The CDC recommends:
* Wear a mask indoors in public
* Stay up to date with COVID-19 vaccines
* Get tested if you have symptoms
* Additional precautions may be needed for people at high risk for severe illness (https://www.cdc.gov/coronavirus/2019-ncov/science/community-levels.html#anchor_47145)
People may choose to mask at any time. People with symptoms, a positive test, or exposure to someone with COVID-19 should wear a mask. If you are immunocompromised, learn more about how to protect yourself (https://www.cdc.gov/coronavirus/2019-ncov/science/community-levels.html#anchor_47145).This new BA.5 sub-variant also appears to be able to reinfect people very quickly and evade some protections offered by vaccines and boosters. Vaccine makers are developing a booster shot to deal specifically with BA.5 and other sub-variants of omicron. For more information, please visit https://covid.cdc.gov/covid-data-tracker/#county-view?list_select_state=New+Jersey&data-type=CommunityLevels&list_select_county=34039
Senior Vaccine Booster Clinic on Wednesday, August 17 at 10am @ DeCorso Center
New Providence Dashboard: https://www.newprov.org/case-statistics/
– – – – – – – – – – – – – – –
MENTAL HEALTH AWARENESS: New Providence Cares About Your Mental Wellness
The New Providence Mental Health Advocacy and Education Committee is spearheaded by Council President Nadine Geoffroy and Councilwoman Lisa McKnight. For more information please contact Nadine Geoffroy at ngeoffroy@newprov.org.
988 is now the official national Suicide and Crisis Lifeline. If you or someone you know is experiencing a mental health crisis call or text 988 anytime anywhere 24/7 for help and support, or just to talk. You're not alone. We're all in this together. To learn more about the 988 system in NJ, please watch this presentation created by the Division of Mental Health and Addiction Services: https://www.youtube.com/watch?v=ZuKhq-VPVjU
Veterans are invited to a bi-monthly, veteran-run peer support & discussion group, Warriors Welcome. This group is no-cost, confidential and a judgment-free zone. They meet every 1st and 3rd Friday: bit.ly/WarriorsWelcomeNJ.
Virtual Muslim Mental Health community group meets Sundays 7pm. Join for a discussion of mental health concerns, wellness goals, and more. Newcomers welcome! bit.ly/MuslimGroupNJ
– – – – – – – – – – – – – – –
UPCOMING:
Come Cheer On the New Providence Reds⚾️ this Sunday 8/14 for the Championship Game! Location and time to be announced shortly. Let's GO NP!
The next Brough Council Meeting is Tuesday Aug 16th 7:30pm.
Senior Vaccine Booster Clinic on Wednesday, August 17th at 10am at the DeCorso Center 15 E 4th St.
From the State of New Jersey: From August 27th to September 5th, New Jersey will have a back-to-school sales tax holiday – cutting the cost on: school supplies, school art supplies, school instructional materials, computers, school computer supplies.
The Next 'Chat with the Mayor' is Friday Sept 2nd 6:30pm-8pm in the Lincoln Meeting Room Borough Hall.
Annual Freecycle-Fest Event hosted by our Sustainability Committee will be held on September 17, 2022 (rain date Sept 18, 2022) at the New Providence Community Pool parking lot from 9am – 2pm. This is an opportunity to bring unwanted items to a central location in New Providence for "recycling" with other families.
– – – – – – – – – – – –
QUICK LINKS:
Borough Council Meetings: http://youtube.com/channel/UCZzCgFvlBgpSfW-JEVRMXsA
Borough Contact Information and Action Line: www.newprov.org/citizen-action-line
New Providence (Mailed) Calendar: https://www.newprov.org/download/Borough%20Newsletters/2022/2022-Annual-Calendar-most-recent.pdf
NPHS Athletics Calendar: https://sites.google.com/npsdnj.org/nphs-athletics/athletic-schedule
NPTV Schedule: www.sites.google.com/npsdnj.org/cook-nptv/nptv-schedule
Public Works: www.newprov.org/department-of-public-workshttp://www.newprov.org/department-of-public-works
Recycle Coach: www.newprov.org/recycle-coach
Senior Citizen Bus: Transportation (with pick up at your home) is available for residents 55+ to ShopRite every Tuesday morning at 8am. Please call the Center at (908) 665-0046 by Monday morning to sign up or for more information.
Smart911 Community Alert System: newprov.org/2022/04/register-today-for-smart-911
Turkey Tracks Newsletter of the New Providence Historical Society: http://newprovidencehistorical.files.wordpress.com/…http://newprovidencehistorical.files.wordpress.com/…
– – – – – – – – – – – – – – –
MISSED AN UPDATE? Mayor's Community Updates can be found on the Borough website and at https://www.mayoralmorgan.com/…/community-updates
– – – – – – – – – – – – – – –
KEEP INFORMED with Borough information:
Website – newprov.org
Facebook – @newprovnj
Twitter – @newprovnj
– – – – – – – – – – – – – – –
FUN FACT: (from the Farmers' Almanac) Today, August 12th, the Dog Days of Summer are officially over. We often hear about the "Dog Days," but you might be surprised where this expression originated. Some think it's a reference to the hot, sultry days that are "not fit for a dog." Others suggest it's the time of year when the extreme heat drives dogs mad. It actually has to do with the stars – Sirius, the Dog Star to be precise! During the "Dog Days" period, the sun occupies the same region of the sky as Sirius, the brightest star visible from any part of Earth. Sirius is a part of the constellation Canis Major, the Greater Dog. In the summer, Sirius rises and sets with the sun. On July 23rd, specifically, it is in conjunction with the sun, and because the star is so bright, the ancient Romans believed it actually gave off heat and added to the sun's warmth, accounting for the long stretch of sultry weather. They referred to this time as diēs caniculārēs, or "dog days." Thus, the term Dog Days of Summer came to mean the 20 days before and the 20 days after this alignment of Sirius with the sun—July 3 to August 11 each year. The Dog Days may be over, but thankfully we all have some summer left to enjoy!
Please feel free to contact me anytime about any issue. Your concerns are my concerns. We are here to serve you. We are a team effort here in NP! Thank you to our outstanding Borough Council, our dedicated administration, employees and staff, our selfless volunteers, and to all of you for making our community such an incredible place. Please be sure to support all our wonderful local establishments and SHOP NP! Have a great weekend and week ahead! We are Pioneer Strong!