Mayor's Community Update: July 29, 2022
Here is a Catch Up of this Past Week in New Providence and Some of the Many Exciting Things Going On and Upcoming in our Community:
Tax Bill Mailing Update: 2022 Final/2023 Preliminary tax bills were mailed out on July 26, 2022. The grace period for 3rd quarter taxes has been extended to August 25, 2022.
Commerce Street Pedestrian Bridge Update: Contractors are putting in the footings for the new pedestrian bridge on Commerce Street. We are waiting on a timeline for the delivery of the bridge itself. More information will be forthcoming. https://www.newprov.org/2022/07/commerce-street-pedestrian-bridge-update/
New Traffic Pattern Coming For Pioneer Drive by the High School. Please Review: https://www.newprov.org/2022/07/new-traffic-pattern-coming-for-pioneer-drive-area/: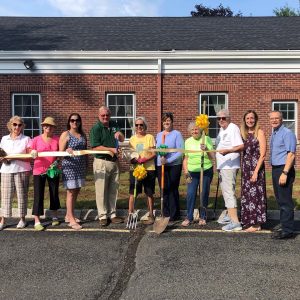 The Borough was awarded $223,000 for the 2022 Safe Routes to School Program. This is the forth time we have received this grant since 2012 and brings our total awarded to $1,295,000.
We welcome back Mr. James Testa who has been appointed as our new part-time Chief Financial Officer/Treasurer for the Borough effective immediately.
Thank you to our New Providence United Methodist Church for their "Garden of Giving" growing food for our friends and neighbors in need. We are so grateful for this good service for our community.
We welcome Assemblywoman Michele Matsikoudis and her office, home here in New Providence at 180 South St Suite 202, which is open to the community. It is our honor and our privilege to have them here.
This past Thursday was our last Concert-in-the-Park. Despite the threat of rain and the venue moved indoors, the music and entertainment was excellent and having our community, friends, families, and neighbors together was really great! These free concerts, sponsored by the New Providence Business Community, were made possible because of generous donations from our local businesses: Advanced Financial Federal Credit Union, the Downtown Improvement District, Elefante Music & School for the Performing Arts, NJ Sharing Network, NP Fuel, NP Lions Club, Prestige Diner, Robert T. Robinson Orthodontics, Terrana Orthodontics, Tropical Smoothie Cafe, and Zita's Homemade Ice Cream.
National Night out Concert and Fireworks is coming up August 2 sponsored by the New Providence PBA Local 132 and the New Providence Business Community. It will be at 7pm at the High School.
Our next 'Chat with the Mayor' is next Friday, August 5th 6:30 – 8pm in the Lincoln Room in Borough Hall.
Utility Upgrades are continuing around the Borough, expect some delays and detours. Please be patient while this important work continues.
NJ American Water – Voluntary Conservation Notice: Practicing odd/even watering now will help manage a finite supply of water, still being able to maintain lawns and gardens, while saving some money on water bills. The guidelines are provided below:
Odd/even guidelines are:
Outdoor water use on odd-numbered days of the month if your street address is an odd number (i.e., 23 Oak St., 7 Maple Ave.)
Outdoor water use on even-numbered days of the month if your street address is an even number (i.e., 6 Oak St., 354 Maple Ave.)
Water early or late in the day to minimize evaporation
Exceptions are:
Watering of new sod or seed if daily watering is required (Note: it is recommended that any planting of new sod or seed that has not already taken place be delayed until the fall)
Use of private wells for irrigation
Commercial uses of outdoor water, such as for nurseries, farm stands, power washing, plumbing, athletic fields, and car washes
Watering of athletic fields
Additional tips and information on wise water use are available on New Jersey American Water's website at www.newjerseyamwater.com under Water Information.
Lanternflies: Residents can help fight back against the spotted lanternfly by destroying the destructive pest. The spotted lanternfly is an invasive species that can weaken trees, damage ornamental plants and destroy fruit trees, hops, grape vines and other crops. They also excrete a whitish "honeydew" that can grow moldy and foul in outdoor spaces including patios and yard furniture. They do not bite or sting, and they do not seem toxic to humans or pets. For more information, including photos of the spotted lanternfly and its eggs at various stages, please visit the New Jersey Division of Agriculture at nj.gov/agriculture. Additional information is available from Rutgers University at njaes.rutgers.edu/spotted-lanternfly. Sightings of the insect can also be reported to Rutgers University through the online reporting tool. Union County is one of three counties in New Jersey participating in a U.S. Department of Agriculture research project to assess various methods of mitigating the spotted lanternfly invasion. For more information from the USDA visit aphis.usda.gov/hungrypests/slf.
– – – – – – – – – – –
LET'S GO GREEN NP:
It's not too late! Join Plastic-Free in July – Go to www.plasticfreejuly.org and click on 'Take the Challenge' to help reduce plastic waste. Initiatives like Plastic Free July are needed to reverse the momentum!
Be Sure You're Signed Up for Our Recycle Coach: www.newprov.org/recycle-coach
Free Shred and Recycle Your Personal Documents in August: Union County's free shredding program visits Kean University, August 13 9am-1pm rain or shine. Union County residents can bring their personal documents and sensitive papers to the next free paper shredding event on Saturday, August 13 in the Kean Hall parking lot at Kean University, located at 1000 Morris Avenue in Union Township.Participants are reminded pre-shredded, damp, or wet paper will not be accepted. Bindings, large plastic or metal clips, and other paraphernalia should be removed. These events are drive-up only and contact-free. Drivers must remain in their cars while staff unloads their papers, which are shredded on site in a mobile shredding truck. Union County's free shedding events are intended for personal, sensitive documents only. Residents can recycle magazines, junk mail and other waste paper with their municipal recycling program. Additional free shredding events are scheduled for September and October, after which the program will go on winter hiatus. The last event of the season will take place on October 29. For the complete 2022 paper shredding schedule, and for information on all recycling programs hosted by Union County, visit ucnj.org/recycle or call the Union County Recycling Hotline at 908-654-9889.
Free Scrap Metal Recycling for Union County Residents August 4 and August 20 9am-12pm: Union County residents with old metal gutters, fencing, or appliances to dispose of can bring these items and more to free scrap metal recycling drop-off sites in August. The scrap metal recycling program is sponsored by the Union County Board of County Commissioners and takes place twice each month from April to November. Acceptable items for recycling include air conditioners, aluminum scrap, aluminum siding, bicycles, brass, copper, dishwashers, electric fans, fencing (chain/wire), freezers, gutters, irons, lawn furniture, metal cabinets, metal sheds, microwaves, pots and pans, railings, refrigerators, stoves, tire rims, toasters, washers and dryers, window frames (no glass), and wire hangers.Scrap metal drop-off will be accepted Thursday, August 4 and Saturday, August 20 from 9:00 a.m. to 12:00 p.m. at two free drop-off centers:
* Cranford: Emergency Services Building, 151 Kenilworth Boulevard
* Rahway: Rahway River Park (follow Park Drive, Rahway off St. Georges Avenue to service yard across from swimming pool)
Scrap metal from residents in any Union County municipality may be brought to either of these sites. The next scrap metal events will take place on Thursday, September 1 and Saturday, September 17. Please note that Union County's scrap metal recycling events are drive-up only, and contact-free. Participants must remain in their vehicles at all times. Materials should be placed in trunk, cargo area or truck bed and be easily accessible for staff to remove. For more information, upcoming dates and directions to all Union County recycling programs and locations, visit the Bureau of Recycling and Planning website at ucnj.org/recycle or call the Union County Recycling Hotline at 908-654-9889. To receive schedule alerts, and to stay up to date with Union County and local recycling programs, download the free Recycle Coach mobile app.
Quick links to all Union County environmental programs and activities are available at The Green Connection, ucnj.org/green-connection.
Annual Freecycle-Fest Event hosted by our Sustainability Committee will be held on September 17, 2022 (rain date Sept 18, 2022) at the New Providence Community Pool parking lot from 9am – 2pm. This is an opportunity to bring unwanted items to a central location in New Providence for "recycling" with other families. In the past this Freecycle Event has been held simultaneously with the Green Fair. However, the two events will be held on separate dates this year. Thank you to the Sustainability Committee for their good work on this for our community.
– – – – – – – – – – – – –
NEW PROVIDENCE MEMORIAL LIBRARY:
July is Disability Pride Month! The library has a variety of fiction and nonfiction in their display celebrating the experiences of the disabled community. Prefer ebooks? Check out the Hoopla Digital app's list on Disability & Accessibility Awareness: https://www.hoopladigital.com/collection/13491
Teen Volunteers Needed!!
Help out at the NP Library's End of Summer Reading Party! Help with lawn games, sidewalk chalk, face painting, temporary tattoos, door prizes, and more.
Rising 7-12th graders, please sign up for a shift here!
The movie "Belfast" is coming August 9th! Thanks to a film license made possible by the Friends of the New Providence Memorial Library, the library is excited to be showing monthly movies! "Belfast" is based on Kenneth Branagh's childhood in Northern Ireland in the 60s.
Plus, in August, children's movies are every Wednesday afternoon and will include: Moana, Little Mermaid, Free Willy, and Dolphin Tale 1 and 2.
Please see all the wonderful events planned on the Library Events Calendar: https://www.newprovidencelibrary.org/events/library-calendar/month.calendar/2022/08/15/13
Summer reading is in full swing at the library! All ages 0-100 can participate. Download the ReadSquared app at newprovidencelibrary.readsquared.com or see one of the teen volunteers stationed in the children's room.
Summer reading is for adults, too! Log up to 6 books to earn prizes from the treasure chest & enter a raffle for a gift card to Coppola's or a gift card to Old Glory. Log your reads at https://newprovidencelibrary.readsquared.com, on the ReadSquared app, or simply fill out a slip at the front desk (adults only, please).
Your library card gets you free access to Comics Plus — thousands of digital comics, graphic novels and more for adults, teens and children age 5 & up. Every title is always available, on your computer, tablet or phone. To get started, go to http://newprovidencelibrary.org and click on the Resources tab.
Have you made the switch to the Libby app? It offers the best reading experience for all ages and has the same great content you love in the OverDrive app! Get in-app support with any questions you may have. https://www.overdrive.com/apps/libby/switchtolibby
The Art of the Mask is on display for through the end of this weekend at the New Providence Memorial Library. It's worth the visit to see! Stop by our library see all the wonderful things they offer.
– – – – – – – – – – – – – –
NEW PROVIDENCE HISTORICAL SOCIETY:
COME CHECK OUT THE NEWLY PAINTED SALT BOX HOUSE!
The New Providence Historical Society hosts cemetery tours at the New Providence Presbyterian Church. The summer tours have concluded but will return October 15th at 1pm and 2pm for Union County's Four Centuries Weekend. John Sponauer, New Providence Historical Society member, researcher, and tour guide educates attendees on the difference between a cemetery and a graveyard, shares many interesting and intriguing historical facts, cemetery folklore, and shows the final resting places of some of the New Providence founding families and Revolutionaries. It is a really great tour and I highly recommend it! Tours are limited to 20 persons. The tours are approximately 30-45 minutes. To reserve your spot please send an email to NPcemeterytours@gmail.com. Indicate the date/time you wish to attend along with the size of your party. You will receive a confirmation email. ***You must email to reserve your spot*** Please Note: Footing may be uneven in some areas, so suitable footwear recommended!
Please Support our New Providence Historical Society. They are always looking for people who have an interest in local history, an interest in joining and supporting their mission. For more information and/or to donate please visit https://newprovidencehistorical.com/about/
The Historical Society is looking for Docents for the Salt Box Museum.
The New Providence Historical Society also puts out a newsletter called Turkey Tracks: https://newprovidencehistorical.files.wordpress.com/2022/03/turkeytracks-issue129.pdf
– – – – – – – – – – – – – –
RECREATION:
Our New Providence Recreation Department Department has many exciting upcoming activities: www.newprov.org/recreation
Recreation Community Events: www.newprov.org/community-events
– – – – – – – – – – – – – – –
COVID Update:
BA.5: This new mutation of the COVID-19 virus appears to be spreading quickly and has become the dominant strain in our area. UNION COUNTY HAS MOVED INTO THE HIGH COMMUNITY LEVEL. The CDC recommends:
People may choose to mask at any time. People with symptoms, a positive test, or exposure to someone with COVID-19 should wear a mask. If you are immunocompromised, learn more about how to protect yourself (https://www.cdc.gov/coronavirus/2019-ncov/science/community-levels.html#anchor_47145).This new BA.5 sub-variant also appears to be able to reinfect people very quickly and evade some protections offered by vaccines and boosters. Vaccine makers are developing a booster shot to deal specifically with BA.5 and other sub-variants of omicron. For more information, please visit https://covid.cdc.gov/covid-data-tracker/#county-view?list_select_state=New+Jersey&data-type=CommunityLevels&list_select_county=34039
Senior Vaccine Booster Clinic on Wednesday, August 17 at 10am @ DeCorso Center
New Providence Dashboard: https://www.newprov.org/case-statistics/
From the CDC: COVID-19 Vaccine Update: Everyone 6 months and older should get vaccinated against COVID-19. Getting vaccinated can help protect you from severe disease, hospitalization, and death from COVID-19. Learn more: https://bit.ly/3CJme0v
For information about Union County's testing and vaccination services, including locations and hours of operation please visit www.ucnj.org/covid19.
– – – – – – – – – – – –
UPCOMING:
National Night Out, Concert and Fireworks – Tuesday, August 2nd: Sponsored by New Providence PBA Local 132 and the New Providence Business Community. This event is at 7 PM at the New Providence High School. National Night Out is an annual community-building campaign that promotes police-community partnerships and neighborhood camaraderie. First responders including police, firefighters, and EMS display their equipment and interact with the community. This is an opportunity for the entire family to meet not only the people who serve and protect them, but also the local businesses and organizations that help our town thrive. National Night out is made possible by our generous sponsors: Acme Market, Downtown Improvement District, Elefante Music & School for Performing Arts, NJ Sharing Network, NP Lions Club, Peapack Private Wealth Management, Prestige Diner, Terrana Orthodontics, Your Kids Urgent Care, and Zita's Homemade Ice Cream.
The Next 'Chat with the Mayor' is Friday Aug 5th 6:30pm-8pm in the Lincoln Meeting Room Borough Hall.
The next Brough Council Meeting is Tuesday Aug 16, 2022 7:30pm.
Senior Vaccine Booster Clinic on Wednesday, August 17 at 10am @ DeCorso Center
From the State of New Jersey: From August 27th to September 5th, New Jersey will have a back-to-school sales tax holiday – cutting the cost on: school supplies, school art supplies, school instructional materials, computers, school computer supplies
Annual Freecycle-Fest Event hosted by our Sustainability Committee will be held on September 17, 2022 (rain date Sept 18, 2022) at the New Providence Community Pool parking lot from 9am – 2pm. This is an opportunity to bring unwanted items to a central location in New Providence for "recycling" with other families.
– – – – – – – – – – – – – – –
MENTAL HEALTH AWARENESS: New Providence Cares About Your Mental Wellness
The New Providence Mental Health Advocacy and Education Committee is spearheaded by Council President Nadine Geoffroy and Councilwoman Lisa McKnight. For more information please contact Nadine Geoffroy at ngeoffroy@newprov.org.
988 is now the official national Suicide and Crisis Lifeline. If you or someone you know is experiencing a mental health crisis call or text 988 anytime anywhere 24/7 for help and support, or just to talk. You're not alone. We're all in this together. To learn more about the 988 system in NJ, please watch this presentation created by the Division of Mental Health and Addiction Services: https://www.youtube.com/watch?v=ZuKhq-VPVjU
July BIPOC Mental Health Month. For more information on BIPOC Mental Health Month or to take a screening go to: mhanational.org
Mental Health Awareness New Jersey (MHANJ) is celebrating the rich culture of the BIPOC community and invite you for BIPOC- Messages of Hope & Celebration on 7/31 in West Orange, NJ. This is a free event sponsored by MHANJ, Pleasant Valley Productions, OSPAC & Creative Arts.
Veterans are invited to a bi-monthly, veteran-run peer support & discussion group, Warriors Welcome. This group is no-cost, confidential and a judgment-free zone. They meet every 1st and 3rd Friday: bit.ly/WarriorsWelcomeNJ.
Virtual Muslim Mental Health community group meets Sundays 7pm. Join for a discussion of mental health concerns, wellness goals, and more. Newcomers welcome! bit.ly/MuslimGroupNJ
– – – – – – – – – – – – – – –
QUICK LINKS:
Borough Council Meetings: youtube.com/channel/UCZzCgFvlBgpSfW-JEVRMXsA
Borough Contact Information and Action Line: www.newprov.org/citizen-action-line
New Providence (Mailed) Calendar: https://www.newprov.org/download/Borough%20Newsletters/2022/2022-Annual-Calendar-most-recent.pdf
NPHS Athletics Calendar: https://sites.google.com/npsdnj.org/nphs-athletics/athletic-schedule
NPTV Schedule: www.sites.google.com/npsdnj.org/cook-nptv/nptv-schedule
Public Works: www.newprov.org/department-of-public-works
Recycle Coach: www.newprov.org/recycle-coach
Senior Citizen Bus: Transportation (with pick up at your home) is available for residents 55+ to ShopRite every Tuesday morning at 8am. Please call the Center at (908) 665-0046 by Monday morning to sign up or for more information.
Smart911 Community Alert System: newprov.org/2022/04/register-today-for-smart-911
Turkey Tracks Newsletter of the New Providence Historical Society: http://newprovidencehistorical.files.wordpress.com/…
– – – – – – – – – – – – – – –
MISSED AN UPDATE? Mayor's Community Updates can be found on the Borough website and at https://www.mayoralmorgan.com/…/community-updates…
– – – – – – – – – – – – – – –
KEEP INFORMED with Borough information:
Website – newprov.org
Facebook – @newprovnj
Twitter – @newprovnj
– – – – – – – – – – – – – – –
FUN FACT: Mosquitoes are the deadliest animal in the world: They kill more people than any other creature, due to the diseases they carry. (CDC: https://www.cdc.gov/globalhealth/stories/2019/world-deadliest-animal.html ).
Although Union County sprays our area regularly for mosquitoes, here are 10 natural ways to help repel mosquitos:
Eliminate standing water
Mosquitoes lay their eggs in any standing water they can find. Be vigilant in checking your property for water that does not regularly flow or evaporate quickly after rainfall. This includes ponds, puddles, animal watering bowls, and gutters. Monitor these areas frequently to reduce standing water
Plants that repel mosquitoes
Mosquitoes are powered by their sense of smell, so naturally, there are some smells they do not like. By growing these plants around your home, you should see a decrease in mosquito traffic.
Peppermint
Basil
Marigold
Catnip
Lavender
One smell mosquitoes especially don't like is lavender. You can utilize lavender in many ways as a repellent. You can grow the flower around your home, apply the oil to your skin, and burn candles. The oils can also be applied to mosquito bites as a natural way to relieve the skin irritation.
Lemon eucalyptus oil
Lemon Eucalyptus oil has been approved by the CDC as a proven method to repel mosquitoes. It can also be utilized in many of the same ways that lavender can be used.
Rosemary on barbecue
While grilling up your next barbeque try throwing on some fresh stalks of rosemary into your grills. If you are using coal or wood, throw the stalks right onto them. They will not only keep mosquitoes away from your cookout but also add flavor to your meal.
Mosquito trap
A mosquito trap is a quick way to eliminate your current population of mosquitoes. It is also a simple DIY project that involves things you already have lying around your home.
Citronella candles
You may be familiar with citronella candles as they are often sold in stores. For a fun DIY project you can have a go at making your own.
Garlic
If you eat a lot of garlic, mosquitoes will not want to eat you. Mosquitoes do not like the smell of you after consuming garlic because of the garlic oil that is produced by your body as an aftereffect.
Apple Cider Vinegar
Apple cider vinegar is also not well liked by mosquitoes. You can drink the vinegar or spray it in the air or on you to keep the pests away.
Attract predators
Mosquitoes have natural predators. You can create an environment in your backyard that attracts and allows these predators to thrive and eat your pests. Here are just a few mosquito predators you can invite into your backyard.
Please feel free to contact me anytime about any issue. Your concerns are my concerns. We are here to serve you. We are a team effort here in NP! Thank you to our outstanding Borough Council, our dedicated administration, employees and staff, our selfless volunteers, and to all of you for making our community such an incredible place. Please be sure to support all our wonderful local establishments and SHOP NP! Have a great weekend and week ahead! We are Pioneer Strong!
– Mayor Al Morgan