New Providence Celebrates Independence Day 2015
NEW PROVIDENCE, NJ – Thousands of New Providence residents came out to enjoy Independence Day festivities and fireworks on Friday, July 3 in the Borough.  Investors Bank donated $8,000 to this year's festivities to enable Borough residents to once again enjoy a dazzling fireworks display.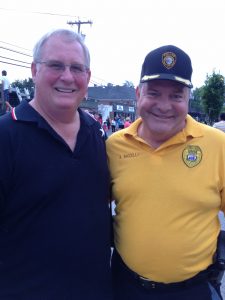 Mayor Al Morgan said, "I would like to thank everyone who helped make the New Providence Independence Day Event this year such a great success!  We had a tremendous turnout and it was truly heartwarming watching all the children and families gather in joyful celebration: kids creating chalk pictures up and down South Street, Club Souren rocking the crowds with music and games from the center of activities aboard our newly acquired army truck,  and the excitement of meeting up with friends and family on a beautiful summer's night. It was small town America at it's finest!"
Morgan continued, "Thank you to Investors Bank for sponsoring the best fireworks show ever and for continuing to be an outstanding community partner. Special thanks to the New Providence Business and Professional Association for helping to put this whole event together for our community, to our DPW for all their good work setting up and taking down, to our communities for their help, patience, and understanding with the closing off of roads and parking situations, and to our Police, Fire, and EMS Departments for keeping everyone safe.  God Bless New Providence, and God Bless the United States of America!"
Heather Hoffman, owner of Hair Salon Body & Soul Salon, Medispa & Wellness Center on South Street said, "We are a brand new business in town so this was our first time here and we all enjoyed it so much! What a really great turnout!  Thanks for having it and we are really looking forward to being a part of the many more community events to come!  We love New Providence!"
Editor's Note:  Have photos that you'd like to share celebrating at the Independence Day festivities in New Providence?  Email them to mshapiro@tapinto.net to be included in this story.