New Providence Business Community Hosts Annual Borough Holiday Party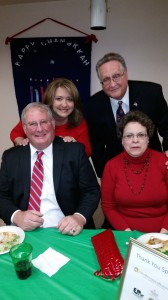 by Michael M. Shapiro, TAPintoNewProvidence
NEW PROVIDENCE, NJ – Borough employees, volunteers and elected officials were treated to a festive holiday party complete with buffet dinner, drinks, ice cream sundae bar, and live music,hosted  by the New Providence business community on Thursday evening, Dec. 11.
Several years ago, in the throes of the recession, the Borough eliminated the Borough holiday party from the municipal budget to reduce taxpayer expenses.  The New Providence business community responded by not only funding the event, but organizing and running it, as well.  Today, the Borough Holiday Party, sponsored and hosted by the New Providence business community, has become an event that Borough employees and volunteers look forward to each year.
In addition to funding and support from the New Providence Business & Professional Association and volunteers from the organization who served food, manned the bar, and played live music, the following local businesses individually sponsored the event, as well:  Berkshire Hathaway Home Services – NJ Properties; Elefante Music; Paolo's Kitchen; Prestige Diner; Summit Medical Group; Friendly's; Kapuscinski Luongo Architects; Braunschweiger Jewelers; and Lassus Wherley.
Borough Administrator Doug Marvin said, "The volunteers and employees of the Borough of New Providence greatly appreciate the kindness of the New Providence Business and Professional Association in sponsoring and coordinating the Annual Appreciation Party.  The food was delicious and the festive atmosphere is truly appreciated during this holiday season.  New Providence is so fortunate in to have dedicated employees and thoughtful and committed volunteers who are all truly concerned for the well-being of New Providence."  He continued, "The Mayor and Council appreciate the relationship with our business community and recognize that a strong and vibrant business community is essential to the overall well-being of our community.  We appreciate the support of all of the sponsors for this event; Berkshire Hathaway Home Services – NJ Properties, Elefante Music, Paolo's Kitchen, Prestige Diner, Summit Medical Group, Friendly's, Kapuscinski Luongo Architects, Braunschweiger Jewelers, Lassus Wherley, and wish everyone continued success.  We want to reiterate that the success of our local community relies on community support.  When shopping during this holiday season, please remember to shop local!"
Al Elefante, owner of Elefante Music and School for the Performing Arts, told TAP into New Providence, "It was nice to see all of the borough volunteers at the party and how much the community appreciates all that they do."
Jimmy Vardas, New Providence Downtown Improvement District President and owner of the Prestige Diner, said,  "It is such a pleasure seeing the true New Providence spirit at the Borough Holiday party…all employees, volunteers, politicians and local business owners coming together to celebrate the holiday season. We had great food, great music and an awesome time."
Incoming Mayor Al Morgan added, "It was a great night.  I want to thank the business community for sponsoring.  It's nice to get the business community together with the elected officials and the volunteers in the town.  It's the volunteers in our town that helps make our Borough great.  People should support our local merchants because they do a lot of good things in town that we take for granted."