Good Things Happening in NP
SO MANY GOOD THINGS HAPPENING…
There are so many good things happening in New Providence. These challenging times have brought out the best in us! Our first responders, front line, and essential workers have been stellar in this crisis. They are our true heroes and we thank each and every one of them for their courage, strength, and commitment to our community especially during these unprecedented times. Our borough employees, departments, local organizations, businesses, sporting clubs and groups, houses of worship, volunteers, and generous contributors have been going above and beyond to pull together during this pandemic, helping one another and our community, and demonstrating our true PIONEER SPIRIT!
The New Providence Lions made masks and headbands around the clock through their new Mask Making Program, a community effort led by Joe Savino Owner of Adams Fine Clothing in New Providence. In addition, the Lions collected smartphones, tablets, and baby monitors for patients to communicate with their family and loved ones, as visitors were not permitted, and also for the caregivers themselves, who were quarantined. Due to periodic overcrowding in hospitals, makeshift ICU units have been setup to expand capacity and baby monitors were used extensively by the doctors and nurses to continuously monitor patients in the extended ICU units. The Lions have also stepped up to help our local businesses during this pandemic by supporting a New Providence 'Comeback Campaign' in partnership with the Borough Business Association of New Providence (BBANP), helping to raise much needed funds and assisting with events that are helping our local businesses stay afloat during these trying times. For more information about the New Providence Lions, and to help, volunteer, or donate to these initiatives, please visit www.nplions.org/community/services.php.
New Providence-Our Community For All (NPOCFA), a new nonprofit group, has been helping our seniors with shopping and support during these unprecedented times in cooperation with our Senior Center (and their Senior Buddies program). NPOCFA was recently awarded a $74,000 grant from The Grotta Fund for Senior Care, and is working under the nonprofit umbrella of our Community Service Association of New Providence (CSA). The grant work is led by the group's Executive Director, Patricia Swan Jacobs, and board members Councilman Pete DeSarno, Lions Member Bill Hoefling, and CSA President, Tom Montrone. The idea for this initiative was developed through the Community Enhancement and Economic Development Committee of New Providence, with the full support of Mayor and Council. We are so grateful for this initiative for our seniors! Thank you! For more information and to help or volunteer please call (732) 535-8441 or email NewProvidenceOCFA@gmail.com.
FLAG (Front Line Appreciation Group) is an organization dedicated to helping feed our committed front line health care workers during the COVID-19 pandemic, while also supporting our local restaurants to help keep them in business. New Providence has partnered with FLAG to support our town, launching FLAG of New Providence. The NPEF has proudly teamed up with FLAG of New Providence to facilitate all donations that will be used to place orders at NP restaurants and delivered to our front line workers and volunteers fighting COVID-19. Donations can be made via credit card or PayPal on their site at http://npedfoundation.org/flag/ or Venmo: @NP-EdFoundation. We thank our NPEF (New Providence Education Foundation), Councilwoman Michele Matsikoudis and Councilwoman Nadine Geoffroy for their good work on this initiative for our community. Thank you!
WITH Grace Initiative Grace, an organization created to support pediatric cancer research initiatives and families when they need it most, have been out in full force during this pandemic. Wanting no one to feel alone, they connect and support pediatric cancer warriors, by collecting supplies and gifts for less fortunate cancer families so they can focus on the fight. They also gather funds to support pediatric cancer research initiatives and cancer family support organizations as well as actively participate in advocacy for pediatric cancer funding so no one else has to feel the pain of this disease. They inspire acts of kindness towards others WITH Grace. They presented their very first Impact Award to Craig Bass, owner of Bagel Cafe NP. This award goes to a person or business that goes above and beyond to make a positive impact on the lives of others. The Bagel Cafe team, lead by Craig, have supported Grace and this initiative from (even before) day 1 bringing smiles to the pediatric cancer warriors, their families, and their hospital care takers.
Our Lady of Peace (OLP) Food Pantry has been very busy since it started handing out prepackaged bags on Tuesdays. The following items are in short supply and would be greatly appreciated: canned meats, canned fruit, rice, pasta sauce, toothpaste & toothbrushes.  Please do NOT donate candy. Donations are most welcome and may be dropped off at back door of Parish Hall, (driveway closest to Rectory) between 9:30 and 11:00 a.m. or anytime in the Rectory Vestibule. Nonperishable items only please! Plastic and paper bags are also needed.
OLP has collected over 4000 sandwiches to continue supporting the homeless at St John's Soup Kitchen and St Joseph's SK in Elizabeth. Many of the soup kitchens have closed but the few that remain open need food or donations. If you would like to contribute please visit https://www.njsk.org. If you are able and would like to make sandwiches, please contact Mike Savage at (908)400-6885 or Pete Lopez at (908)956-3101. We thank all who are helping and supporting these efforts. True Pioneer Spirit! Thank you!
Due to COVID-19 our annual New Providence Memorial Day Parade was cancelled and a video of past New Providence Memorial Day Parade Celebrations was put together by our New Providence Recreation Department in collaboration with the New Providence American Legion Post #433 to honor community members and others who have been serving our country from 1720 through 2020. Please watch video here: MEMORIAL DAY 2020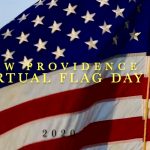 Our annual New Providence Flag Day Retirement Ceremony was cancelled this year due to COVID-19. Maria Deluca along with First Lady, Christine Morgan, and with support of the New Providence Diversity Committee, created a New Providence Flag Day Challenge inviting all residents to read the US Flag Code, find or draw a flag in compliance of the code at home or office, then submit a photo to be included in an AMERICAN FLAGS ACROSS NEW PROVIDENCE slide show. Please watch the slideshow here honoring Flag Day and our Veterans: AMERICAN FLAGS ACROSS NEW PROVIDENCE
We also would like to thank all of our organizations, local businesses, generous contributors, friends, families, and dedicated volunteers for all of your donations, efforts, and contributions to help others! We thank you!