Mayor's Community Update: September 23, 2022
Published
September 23, 2022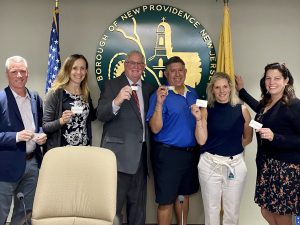 Happy Fall! Here is a Catch Up of this Past Week in New Providence and Some of the Many Exciting Things Going On and Upcoming in our Community:
We had a lot of great community events this past week including our annual Book Festival at the Salt Box Museum, our Sustainability FreeCycle Event, and the new Plant Exchange. Thank you to all our dedicated volunteers and contributors without whom all these wonderful community events could never occur. We thank you!
Congratulations and welcome Bakehouse by Joe Murphy located at 1253 Springfield Ave to our family of New Businesses. We held a ribbon cutting this past weekend.
Congratulations to newly promoted Lieutenant Sretenovic and Captain Drown! They were sworn into their new positions at last week's council meeting.
Happy Hispanic Heritage Month! Our New Providence Diversity Committee is hosting an entire fun filled educational month from Sept 15th – Oct 15th full of events and activities for all ages to celebrate Hispanic Heritage: https://www.newprov.org/2022/09/celebrate-national-hispanic-heritage-month/
Thank you to my NPHS Graduating Class of '72 for an incredible Reunion Weekend! It was great to catch up with old friends, give a tour of our high school, and of borough hall (which use to be Lincoln School, my elementary school). It truly is one of the many things that is so great about our community: the small hometown life that you want to come home to.
We are continuing to celebrate National Library Card Month by promoting #SeptemberSignUp. The NP Library is hosting a contest! Post a pic or video of yourself holding your NP Library Card to Facebook, Instagram or TikTok with the hashtags #SignUpSeptember and #newprovlibrary
Utility upgrades are continuing around the borough. Please be patient during these delays and detours while this important work continues.
– – – – – – – – – – –
ELECTION 2022:
EARLY VOTING:
General Election Early Voting Dates Available at the New Providence DeCorso Community Center 15 E. Fourth Street:
* Saturday, October 29, 2022: 10am – 8:00pm
* Sunday, October 30, 2022: 10am – 6:00pm
* Monday, October 31, 2022: 10am – 8:00pm
* Tuesday, November 1, 2022: 10am – 8:00pm
* Wednesday, November 2, 2022: 10am – 8:00pm
* Thursday, November 3, 2022: 10am – 8:00pm
* Friday, November 4, 2022: 10am – 8:00pm
* Saturday, November 5, 2022: 10am – 8:00pm
* Sunday, November 6, 2022: 10am – 6:00pm
Voter Registration closes on October 18th – if you have not registered to vote and would like to do so, please visit: https://ucnj.org/boe/voter-outreach/Voter for more information.
Below are a few great opportunities to register to vote for the November 8, 2022 General Election in person:
Upcoming Public Outreach Events:
– Clark – Concert in the Park Oak Ridge Park, 136 Oak Ridge Road on Saturday, September 10 – 6pm – 10pm
– Union College: Elizabeth Campus 40 W Jersey Street on Tuesday, September 13 – 11 a.m. – 2 p.m.
– Union College: Plainfield Campus 232 E 2nd Street on Wednesday, September 14 – 11 a.m. – 1 p.m.
– Union College: Cranford Campus: 1033 Springfield Avenue on Thursday, September 15 – 11 a.m. – 2 p.m.
– Roselle: Cultural Day (Hispanic Heritage Month) Warinanco Park (Sport Center), 1 Park Drive onSaturday, September 17 – 2pm-5pm
– Union Library Voter Registration Event Vauxhall Branch – 123 Hilton Avenue on Tuesday, September 20 – 10am – 2pm
– Linden: September to Remember Linden City Hall 301 N Wood Avenue on Saturday, September 24 – 11am-5pm
– Elizabeth: Puerto Rican Parade & Festival Todd Bowles Field 201-215 Front Street on Sunday, September 25 – 1pm-5pm
– Hillside: Hillside Health Fair on Saturday, October 1 – 8am-2pm
– Rahway: Family Fun Day (Hispanic Heritage Month) Rahway River Park – Parkway Drive on Saturday, October 15 1pm – 5pm
Dates to remember:
– October 18: Voter Registration Deadline for General Election
– November 1: Deadline to apply for a Mail-In Ballot by Mail for General Election
– November 8: General Election – Polls are open from 6am – 8pm (refer to your sample ballot for polling place)
– – – – – – – – – – –
LET'S GO GREEN NP:
Please be sure you are signed up for our Recycle Coach: www.newprov.org/recycle-coach
Cartridge Recycling: Cartridge World has kept hundreds of thousands of Ink and LaserJet cartridges out of landfills by recycling them at their location in New Providence. Please join the effort and drop off used cartridges at 1310 Springfield Avenue.
Eye Glasses Recycling: If you have any used/unwanted/no longer needed eye glasses, please drop off at the Lions Mailbox in front of the New Providence Memorial Library. All these glasses are used for people in need.
Aluminum Can Recycling: New Providence Volunteer Fire Department (newprovidencefire.org) is seeking donations of aluminum cans for the Aluminum Cans for Burned Children program at St. Barnabas Hospital. Over the years, this fundraising activity has provided invaluable financial support to the Burn Foundation. Aluminum cans can be placed in the can cart behind the fire house located on Floral Avenue.
Household Hazardous Waste Recycling: www.ucnj.org/recycle
Scrap Metal Recycling: Free. www.ucnj.org/recycle or call the Union County Recycling Hotline at 908-654-9889.
Quick links to all Union County environmental programs and activities are available at The Green Connection: ucnj.org/green-connection.
Thank you to our Sustainability Committee for a very successful Annual Freecycle-Fest Event this past weekend!
The weather is perfect for more walking and cycling! Drive Less!
– – – – – – – – – – – – –
NEW PROVIDENCE MEMORIAL LIBRARY:
Learn over 70 world languages as well as English with MANGO LANGUAGES, our new highly-rated language learning app! Just download the app in your app store, then sign up with your NP library card to begin your personalized, adaptive language learning experience! https://connect.mangolanguages.com/newprovidencelibrary/start
BRAINFUSE is back!
– FREE LIVE ONLINE TUTORING
– FREE HOMEWORK HELP
– FREE WRITING LAB
– FREE SKILLS LAB and more, all from certified teachers! All you need is your NP Library Card number to login. Don't have a library card? Come in to get one during #SignUpSeptember and get entered to win a free gift card to a local NP business, plus a fun library swag bag!
It's #SignUpSeptember!
– Get your free library card
– Take a Library Tour
– Free giveaways at checkout
– Social Media contest
September is National Library Card Month!
To celebrate, the NP Library is hosting a contest! Post a pic or video of yourself holding your NP Library Card to Facebook, Instagram or TikTok with the hashtags #SignUpSeptember and #newprovlibrary
Don't have a library card? Come in to get one! Just bring ID and proof of residency (teens age 14+ can show their school ID or PowerSchool acct) to get your FREE Library Card!
A daytime English as a Second Language class is starting at the New Providence Library this fall. Please contact Anita Alvarado at (908) 486-1777 ext. 402 or email aalvarado@literacynj.org. Au pairs and new arrivals to New Providence are all welcome!
Batter-Up Let's Talk Baseball on the following Mondays 7pm-9pm: 10/10, 11/14, 12/12
New Display! Come by the library to a Hispanic Heritage Artifact Display by our Diversity Committee.
Library Calendar of Upcoming Events and Activities: https://www.newprovidencelibrary.org/events/library-calendar/month.calendar/2022/09/15/-
Have you made the switch to the Libby app? It offers the best reading experience for all ages and has the same great content you love in the OverDrive app! Get in-app support with any questions you may have. https://www.overdrive.com/apps/libby/switchtolibby
– – – – – – – – – – – – – – –
NEW PROVIDENCE HISTORICAL SOCIETY:
Cemetery tours at the New Providence Presbyterian Church will return October 15th at 1pm and 2pm for Union County's Four Centuries Weekend. To reserve your spot please send an email to NPcemeterytours@gmail.
Please Support our New Providence Historical Society. They are always looking for people who have an interest in local history, an interest in joining and supporting their mission. For more information and/or to donate please visit https://newprovidencehistorical.com/about/ or call (908)665-1034.
The New Providence Historical Society also puts out a newsletter called Turkey Tracks: https://newprovidencehistorical.files.wordpress.com/2022/09/turkeytracks-issue130.pdf
– – – – – – – – – – – – – –
RECREATION:
Fall Offerings for Youth and Adults: https://www.newprov.org/recreation/
Recreation Community Events: www.newprov.org/community-events
DECORSO COMMUNITY CENTER: www.newprov.org/seniors. Please call (908) 665-0046 or e-mail decorsocenter@newprov.us for information.
– – – – – – – – – – – – – – –
HEALTH & WELLNESS:
MONKEYPOX: CDC recommends vaccination for people who might have been exposed to monkeypox. Learn more: https://bit.ly/3AftSRE. More information on MPX can be found at: https://www.nj.gov/health/cd/topics/monkeypox.shtml
COVID: For details about Union County's mobile COVID-19 vaccination services, testing, clinics, including locations and hours of operation please visit www.ucnj.org/covid19 or call 908-613-7829. Home-bound residents may be eligible for a home vaccination visit.
FLU: https://ucnj.org/covid19/flu-clinics/
Suicide prevention begins when you reach out to your friends and family. Please check in on your friends and family, especially if you can sense they're feeling low. If you or someone you know is feeling overwhelmed, reach out and connect to services
☎️ Call 9-8-8 for the National Suicide & Crisis Hotline
☎️ Call NJ Hopeline 1 855 654-6735
☎️ Call or text 2ND FLOOR 1 888 222-2228
Parents, if you're concerned for your children, call the Children's System of Care 1 877 652-7624
– – – – – – – – – – – – – – –
New Providence Municipal Alliance (www.newprov.org/municipalalliance) (NPMA) – The mission of the New Providence Alliance is to identify abuse environments and root causes within the community, assess needs, and implement effective education and prevention programs.
September is National Recovery Month. During Recovery Month, the NPMA aims to increase awareness and understanding of mental health and substance use disorders and encourage individuals in need of treatment and recovery services to seek help. Recovery Month celebrates individuals living lives in recovery and recognizes the dedicated workers who provide the prevention, treatment, and recovery support services that help make recovery possible. "Recovery is for Everyone: Every Person, Every Family, Every Community."
During National Recovery Month and throughout the year spread the message that:
• Behavioral health is essential to health.
• Prevention works.
• Treatment is effective.
• People recover.
Refer to the Recovery Month website, recoverymonth.net, for additional information on the initiative.
Visit NP Alliance on Facebook or follow them on Instagram on Instagram at @newprovalliance, and visit their website to learn more about how the New Providence Alliance continues to bring programs to our community in an effort to educate people on the dangers of substance use.
– – – – – – – – – – – – – – –
UPCOMING:
Sept 23rd (Fri): Spanish story time for 3-6 year olds at the library for Hispanic Heritage Month.
Sept 27th (Tues) Borough Council Meeting at Borough Hall
Sept 29th (Thurs) 5pm: PBA 132 Happy Hour Event at Moe's Bistro. $30
Sept 30th (Fri): Spanish story time for 3-6 year olds at the library for Hispanic Heritage Month.
Oct 1st (Sat) 8am-3pm The New Providence PBA 132's 5th Annual Car Show at 1378 Springfield Ave in New Providence (Community Pool Parking Lot). Rain date is Oct 2nd. Food trucks! This fun free event showcases some really amazing cars. Car lovers and friends alike will really enjoy this show! Don't miss it!New Providence PBA Local 132
Oct 1st (Sat) 10am: Craft Fair at the Library
Oct 6th Mayor and Council Debate for the upcoming election. Details forthcoming.
Oct 7th (Fri) 6:30pm-8pm: Chat with the Mayor at Borough Hall Lincoln Meeting Room
Oct 8th (Sat) 7pm-11pm: New Providence Education Foundation Fall Festival at Untied to benefit our schools. Live Band. Cornhole Tournament. Silent Auction. Ticket information coming soon! New Providence Education Foundation
Oct 8th to Nov 1st: Scarecrows returning to our downtown! See New Providence Business Community for sign up and details! Deadline to enter contest is Oct 1st! http://www.newprovbiz.com/calendar/halloween-downtown-trick-or-treating/
October 8th 2pm-3:30pm: National Hispanic Heritage Celebration in Centennial Park with arts, crafts, Latin and folklore dances, a Zumba demonstration, a display of traditional dresses, music, songs, and fun for the whole family! This wonderful event is free and open to all!
Oct 10th (Mon) 7pm-9pm: Batter-Up Let's Talk Baseball at the library
October 15th (Sat)1pm and 2pm: Cemetery Tours at the Presbyterian Church (See New Providence Historical Society section for sign up details).
Oct 16th 3pm: Hickory Tree Chorus at the Library
October 22nd (Sat) 3pm: New Providence Annual Decorated Pumpkin Contest and Trunk-or-Treat Event at the New Providence Community Pool Parking Lot. Everyone is invited to attend and participate in this fun free family friendly event!
Oct 29th (Sat): Downtown Trick-or-Treating sponsored by our generous businesses. Stores with orange pumpkins on their doors or in their windows will greet trick-or-treaters with candy and fun surprises.
Oct 29th (Sat) 8am-2pm: NPHS Athletics Clothing Drive
Oct 30th (Sun) 10am-4pm: New Providence Street Fair The fair will be held on Springfield Avenue, between South Street and Livingston Avenue
Nov 6th (Sun) 10am-4pm: Paca Club Craft Sale at the William Paca Club The William Paca Club
Nov 8th (Tues) – ELECTION DAY! Don't forget to VOTE!
Nov 13th 3pm: Banjo Rascals Concert at the Library
Nov 14th (Mon) 7pm-9pm: Batter-Up Let's Talk Baseball at the library
Dec 2nd: "Night of a Thousand Stars" Community Tree Lighting Event in Centennial Park
Dec 11th 3pm: Cover Girls Concert at the Library
Dec 12th (Mon) 7pm-9pm: Batter-Up Let's Talk Baseball at the library
– – – – – – – – – – – –
QUICK LINKS:
Borough Council Meetings: youtube.com/channel/UCZzCgFvlBgpSfW-JEVRMXsA
Borough Contact Information and Action Line: www.newprov.org/citizen-action-line
New Providence (Mailed) Calendar: https://www.newprov.org/download/Borough%20Newsletters/2022/2022-Annual-Calendar-most-recent.pdf
NPHS Athletics Calendar: https://sites.google.com/npsdnj.org/nphs-athletics/athletic-schedule
NPTV Schedule: www.sites.google.com/npsdnj.org/cook-nptv/nptv-schedule
Public Works: www.newprov.org/department-of-public-works
Recycle Coach: www.newprov.org/recycle-coach
Senior Citizen Bus: Transportation (with pick up at your home) is available for residents 55+ to ShopRite every Tuesday morning at 8am. Please call the Center at (908) 665-0046 by Monday morning to sign up or for more information.
Smart911 Community Alert System: newprov.org/2022/04/register-today-for-smart-911
New Providence Historical Society Newsletter "Turkey Tracks" : https://newprovidencehistorical.files.wordpress.com/2022/09/turkeytracks-issue130.pdf
– – – – – – – – – – – – – – –
MISSED AN UPDATE? Mayor's Community Updates can be found on the borough website and at https://www.mayoralmorgan.com/community-updates
– – – – – – – – – – – – – – –
KEEP INFORMED with Borough information:
Website – newprov.org
Facebook – @newprovnj
Twitter – @newprovnj
– – – – – – – – – – – – – – –
FUN FACT: The autumnal equinox occurs in the Northern Hemisphere on September 22 or 23. It marks the beginning of fall. The equinox marks the two times each year when day and night are the same length in all parts of the world. An equinox is different from a solstice, where the sun hits its northernmost or southernmost position. Happy Fall!
Please feel free to contact me anytime about any issue. Your concerns are my concerns. We are here to serve you. We are a team effort here in NP! Thank you to our outstanding Borough Council, our dedicated administration, employees and staff, our selfless volunteers, our generous local businesses and to all of you for making our community such an incredible place to live and work. Please be sure to support all our wonderful local establishments and SHOP NP! Have a great weekend and week ahead! We are Pioneer Strong!
– Mayor Al Morgan