Mayor's Community Update: September 2, 2022
Published
September 2, 2022
Here is a Catch Up of this Past Week in New Providence and Some of the Many Exciting Things Going On and Upcoming in our Community: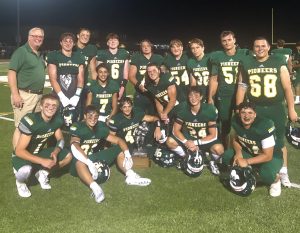 Last Friday's Pioneer Football Season kicked off with a BIG win! The Mayor's Trophy STAYS IN NP for another year! Well done! Although we were sad to hear no Thanksgiving football game this year, this really was a great way to kick off the 2022 Pioneer Football Season! It was a great night in our community and a great time out with friends and neighbors! Let's Go Pioneers!

New Providence had a great start back to school this past Thursday! Welcome Back! Wishing all a great year ahead!
New sidewalks were installed in front of AWR to aid in the drop off and pickup of students.
The new traffic pattern on Pioneer Drive and Balcom Drive is in effect. Please be aware of new road striping patterns and drive carefully! https://www.newprov.org/download/Police%20Department/high_schoolmiddle_school_traffic_plan_documents/Traffic-Pattern-Change-Packet-for-Parents.Students.pdf

Our New Providence Diversity Committee (Diversity in New Providence, NJ )is hosting an entire fun filled educational month from Sept 15th – Oct 15th full of events and activities for all ages to celebrate Hispanic Heritage Month. See below in the UPCOMING section for dates and events.
From our New Providence Municipal Alliance: International Overdose Awareness Day is the world's largest annual campaign to end overdose, remember without stigma those who have died and acknowledge the grief of the family and friends left behind.
Please take a moment to remember those lost to overdose right here in New Providence. Please continue to follow the New Providence Alliance as they bring programs to our community that aim to educate people on the dangers of substance abuse and prevent any future tragedies.
Also from our Municipal Alliance: https://www.mycentraljersey.com/story/news/health/addiction/2022/08/25/operation-helping-hand-somerset-patriots/65417751007/
ASK: ASK is a program of the Union County Department of Human Services through the Division on Aging and Disability Resources, serving seniors age 60-plus and their caregivers. Union County seniors and their caregivers can come to any one of four Union County Aging Services Kiosk events (regardless of hometown) this month and meet in person with professional staff for expert guidance on senior programs and resources, including help with filling out applications and forms. Bilingual staff will be available to assist residents in Spanish during the event on September 21st. Staff at the ASK events can help seniors and care givers connect with a variety of services including home delivered meals, respite care, home care, adult day care and support services for caregivers.No appointment or pre-registration is needed. To check for other upcoming ASK events, call the Division on Aging and Disability Resource Connection 1-888-280-8226 toll free or visit the Division online at ucnj.org/dhs/aging.
The September dates and locations are:

Thursday, September 1st at Union Public Library
1060 Stuyvesant Avenue, Union, 07083
10:00 A.M. – 12:00 P.M.

Monday, September 12th at the Clark Public Library
303 Westfield Avenue, Clark, 07066
10:00 A.M. – 12:00 P.M.

Wednesday, September 14th at the Garwood Public Library
411 Third Avenue, Garwood, 07027
10:00 A.M. – 12:00 P.M.

Wednesday, September 21st
Bilingual staff will be available at this event to assist residents in Spanish
Elizabeth Public Library
11 South Broad Street, Elizabeth, 07202
12:00 P.M. – 2:00 P.M.

Don't forget the sales tax holiday on school supplies is in effect through September 5th: https://www.state.nj.us/treasury/news/2022/08182022

From Union County-Spotted Lanternfly Update: Act Now to Prevent Breeding: Spotted lanternfly infestations begin with the appearance of small, beetle-like nymphs in the spring, which transform into large, destructive hopping insects over the summer. Help prevent spotted lanternflies from breeding in the fall, and help to reduce the habitat for next year's nymphs. Spotted lanternflies lay their eggs in the fall. Residents can help prevent them from breeding now, by stomping on any lanternfly they see. Residents with trees on their property can use circle traps to catch nymphs in the summer and mature lanternflies in early fall. Lanternflies are known to feed on the sap of 70 different trees and plants, but the ailanthus tree, or Tree-of-Heaven, is their preferred host. *Please note that sticky tape and glue traps should never be used, because they can ensnare birds and beneficial insects. Circle traps are widely available online. They can also be made at home with simple materials. For more information about circle traps and other environmentally safe methods of trapping nymphs and mature lanternflies, including a link for instructions on do-it-yourself circle traps, visit ucnj.org/slf. Residents can also reduce the preferred habitat for spotted lanternflies by arranging to have ailanthus trees removed from their property. Because the ailanthus tree is an invasive non-native species, removing it can enable more diverse, native species to grow while also reducing breeding opportunities for the spotted lanternfly. Property owners are advised to consult a professional landscape or tree service to remove ailanthus trees. Sprouts and small saplings can be pulled up by the roots, but larger ailanthus trees require professional treatment with an herbicide to prevent them from growing back in greater numbers after cutting. View the entire press release on the Union County website: https://wp.me/p4sLwl-pDU
Utility Upgrades are continuing around the Borough, expect some delays and detours. Please be patient while this important work continues.
In case you missed the last Council meeting, here are the highlights:
– – – – – – – – – – –
LET'S GO GREEN NP:
Please be sure you are signed up for our Recycle Coach: www.newprov.org/recycle-coach
Cartridge Recycling – Cartridge World has kept hundreds of thousands of Ink and LaserJet cartridges out of landfills by recycling them at their location in New Providence. Please join the effort and drop off used cartridges at 1310 Springfield Avenue.
Eye Glasses Recycling: If you have any used/unwanted/no longer needed eye glasses, please drop off at the Lions Mailbox in front of the New Providence Memorial Library. All these glasses are used for people in need.
Aluminum Can Recycling: New Providence Volunteer Fire Department (newprovidencefire.org) is seeking donations of aluminum cans for the Aluminum Cans for Burned Children program at St. Barnabas Hospital. Over the years, this fundraising activity has provided invaluable financial support to the Burn Foundation. Aluminum cans can be placed in the can cart behind the fire house located on Floral Avenue.

Scrap Metal Recycling: Saturday, September 17th. Union County's scrap metal recycling events are drive-up only, and contact-free. Participants must remain in their vehicles at all times. Materials should be placed in trunk, cargo area or truck bed and be easily accessible for staff to remove. For more information, upcoming dates and directions to all Union County recycling programs and locations, visit the Bureau of Recycling and Planning website at ucnj.org/recycle or call the Union County Recycling Hotline at 908-654-9889.
Household Hazardous Waste Recycling: Sept 10th www.ucnj.org/recycle

Quick links to all Union County environmental programs and activities are available at The Green Connection: ucnj.org/green-connection.

Annual Freecycle-Fest Event hosted by our Sustainability Committee will be held on September 17, 2022 (rain date Sept 18, 2022) at the New Providence Community Pool parking lot from 9am – 2pm. This is an opportunity to bring unwanted items to a central location in New Providence for "recycling" with other families. In the past this Freecycle Event has been held simultaneously with the Green Fair. However, the two events will be held on separate dates this year. Thank you to the Sustainability Committee for their good work on this for our community.
NEW addition to this year's FreecycleFest! Plant and Seed Exchange! Sept 17th (Sat) 9am-2pm (rain date Sun Sept 18th). For guidelines and tips on seeds and cuttings, check out https://tinyurl.com/Plant-Exchange-NP
Get Out More! Walk and Cycle More – Drive Less!
– – – – – – – – – – – – –
NEW PROVIDENCE MEMORIAL LIBRARY:
A daytime English as a Second Language class is starting at the New Providence Library this fall. Please contact Anita Alvarado at (908) 486-1777 ext. 402 or email aalvarado@literacynj.org. Au pairs and new arrivals to New Providence are all welcome!
Batter-Up Let's Talk Baseball on the following Mondays 7pm-9pm: 9/12, 10/10, 11/14, 12/12
Have you seen the new WINDOW DISPLAYS on your way into the library? Stop by the library to check out the new shelves!
NJ Film School is coming to the NP Library for a fantastic presentation on the History of Zombies in Film & Video Games!
Open to Teens & Adults
Sat, Sept 10 @ 1:00PM
Email NPMLTeens@gmail.com to register

Coming in September: A Hispanic Heritage Artifact Display by our Diversity Committee is planned for the library. Stay tuned!
Please see all the wonderful events planned on the Library Events Calendar: https://www.newprovidencelibrary.org/events/library-calendar/month.calendar/2022/08/15/13
Your library card gets you free access to Comics Plus — thousands of digital comics, graphic novels and more for adults, teens and children age 5 & up. Every title is always available, on your computer, tablet or phone. To get started, go to http://newprovidencelibrary.org and click on the Resources tab.
Have you made the switch to the Libby app? It offers the best reading experience for all ages and has the same great content you love in the OverDrive app! Get in-app support with any questions you may have. https://www.overdrive.com/apps/libby/switchtolibby
– – – – – – – – – – – – – –
FIRETRUCK FRIDAY
Last week's #firetruckfriday featured two incident command vehicles; Car 1 and Car 2. Car 1 is assigned to the Chief of Department (or their designee) and Car 2 is assigned to a Deputy Chief (or acting deputy chief). Typically these vehicles respond directly to fire incidents to provide an immediate "size-up" of the incident and/or building the incident is occurring in. Incident size-ups provide valuable information to other responding officers and members as they start to develop the tactics to manage an incident. For larger buildings or properties, they might respond to different areas depending on the incident in order to conduct a full size up.
In some cases, these vehicles going directly to a fire scene allow for rapid extinguishment of small fires before they spread or to make critical rescues. They are also crucial during major weather incidents where initial access for large fire apparatus might be limited or delayed due to conditions.
Car 1 is a 2019 Ford F-150 XLT 4×4. Car 2 is a 2013 AWD Police interceptor originally utilized by the police department as a patrol vehicle and since repurposed for us. Both units are equipped with the following:
– Incident Command equipment such as unit accountability board, tablet computer to show dispatch information and call details, multiple radios to communicate with various agencies, multiple building, utility and street maps.
– Turnout gear, SCBA and personal protective equipment for the assigned officer
– Hand tools, Elevator and Knox box keys.
– Hazardous gas meters
– Thermal imaging camera
– Medical equipment and AED
Our New Providence Volunteer Fire Department looks forward to sharing more about their apparatus and equipment! Visit their Facebook page for photos and for more information: https://www.facebook.com/NewProvidenceFire
Did you know that our Volunteer Fire Department collects aluminum cans for recycling? The proceeds are donated to the Burn Center at St Barnabas. You can find the collection bin in the back of the fire station on Floral Ave. So instead of putting your aluminum cans in the curbside recycling, you can drop them off at the fire station, making sure you do not include regular tin cans. It's an easy thing to do to help support burn victims. Thank you to Louise Wheeler for the reminder!
– – – – – – – – – – – – – – –
NEW PROVIDENCE HISTORICAL SOCIETY:
The Salt Box Museum will be open Sunday 9/4, from 1-3pm. This free museum is full of local history and artifacts. Take a quick peek into New Providence life in the 1800's. Pick up a copy of Our Images of America, New Providence photo Book; or a copy of History of the New Providence Community Pool, by Bert Abbazia. Have an interest in local history ? Why not join and get involved with upcoming events. For more information please call (908)665-1034.
Cemetery tours at the New Providence Presbyterian Church will return October 15th at 1pm and 2pm for Union County's Four Centuries Weekend. John Sponauer, New Providence Historical Society member, researcher, and tour guide educates attendees on the difference between a cemetery and a graveyard, shares many interesting and intriguing historical facts, cemetery folklore, and shows the final resting places of some of the New Providence founding families and Revolutionaries. Tours are limited to 20 persons. The tours are approximately 30-45 minutes. To reserve your spot please send an email to NPcemeterytours@gmail.com. Indicate the date/time you wish to attend along with the size of your party. You will receive a confirmation email. ***You must email to reserve your spot*** Please Note: Footing may be uneven in some areas, so suitable footwear recommended!
Please Support our New Providence Historical Society. They are always looking for people who have an interest in local history, an interest in joining and supporting their mission. For more information and/or to donate please visit https://newprovidencehistorical.com/about/
The Historical Society is looking for Docents for the Salt Box Museum.
The New Providence Historical Society also puts out a newsletter called Turkey Tracks: https://newprovidencehistorical.files.wordpress.com/2022/03/turkeytracks-issue129.pdf
– – – – – – – – – – – – – –
RECREATION:
Checkout all of the New Providence Recreation Department Fall offerings for Youth and Adults: https://www.newprov.org/recreation/
Adults – come get artsy at NP Rec! Registration is open. Find flyers and the link to CommunityPass at www.newprov.org/recreation
Recreation Community Events: www.newprov.org/community-events
DECORSO COMMUNITY CENTER (www.newprov.org/seniors):

All senior programs take place at the center unless otherwise noted.
Walking Club Restart, Wednesday, September 7, 10am – Want to enjoy the fresh air and get some exercise while socializing with friends?The group will meet at the Center and walk in the surrounding neighborhoods. Weather permitting. Please wear comfortable clothing and sneakers and bring water. For bus transportation to the Center, please call (908) 665-0046 or e-mail decorsocenter@newprov.us two days in advance.
Game Day, Wednesday, September 7, 11am – Gather your friends to socialize and play any game you'd like. Cards, Scrabble, and dominoes are available at the Center, or bring your own game to play! Club member Bert will be leading a game of Wizard, a fun card game that you can try out! There is also a Ping Pong table set up in the back room for those who would like to play. The picnic tables on the patio will also be available if the weather is nice! For bus transportation, please call (908) 665-0046 or e-mail decorsocenter@newprov.us two days in advance.
Bingo, Friday, September 16, 11am – The Center will have bingo games every Friday in September and an additional bingo game with special prizes on Wednesday, September 14 at 11am. Bring a friend and enjoy the fun! Bingo cards will be 50 cents each. For bus transportation, please call (908) 665-0046 or e-mail decorsocenter@newprov.us two days in advance.
Knitting Lessons and Knitting Club, Thursday September 15, 1pm – Come learn a new hobby and meet wonderful friends! Instructor Christine will be offering knitting lessons. The regular knitting club will then resume on Thursday, October 13, at 1pm. Bring your own project and enjoy the conversation. All seniors are welcome!
Welcome Back Country and Western Picnic, Wednesday, September 28, 12pm – Join friends for some good old boy country music and dancing!!! Enjoy hamburgers, hot dogs, chicken, Italian sausage, French fries, onion rings, corn-on-the-cob, lemonade, iced tea, and watermelon. Wear your western duds and get ready to have a boot-scootin' boogie time!!! Cost $15. Tickets are on sale now at the Center. Last day to purchase tickets is September 21. Make checks payable to NPSCC. For bus transportation, please call (908) 665-0046 or e-mail decorsocenter@newprov.us two days in advance.
– – – – – – – – – – – – – – –
HEALTH & WELLNESS:
Monkey Pox Update:
Monkeypox is less transmissible than covid, but the health department is recommending that anyone at increased risk for contracting monkeypox consider vaccination. Two vaccines can be used for preventing monkeypox infection. CDC recommends vaccination for people who might have been exposed to monkeypox. Learn more: https://bit.ly/3AftSRE. More information on MPX can be found here: https://www.nj.gov/health/cd/topics/monkeypox.shtml
Individuals that are interested in pre-exposure vaccination can contact the following programs. Vaccination at these sites is by appointment only:
Bergen New Bridge Medical Center
Location: Annex 2 (white tent structure), 230 East Ridgewood Ave, Paramus
Phone: 800-730-2762
Website: www.newbridgehealth.org
Cooper Vaccine & Testing Clinic, Cooper University Hospital
Location: 300 Broadway, Camden
Phone: 856-968-7100
Hours: Monday-Thursday, 7am-8pm and Friday, 7am-5pm
Website: https://my.cooperhealth.org/mychart/authentication/login
Hyacinth AIDS Foundation/Project Living Out Loud!
Location: Jersey City
Phone: 201-706-3480
The Prevention Resource Network, a program of the Visiting Nurse Association of Central Jersey
Location: Asbury Park
Website: www.prnvnacj.org/
North Jersey Community Research Initiative (NJCRI)
Location: Newark
Phone: 973-483-3444 ext. 200
COVID Update:
Union County's free COVID-19 vaccination program has expanded to offer the Novavax vaccine, approved for ages 18 and older. The Union County vaccination program also continues to offer the Pfizer, Moderna, and Johnson & Johnson vaccines approved for various age groups including infants age 6 months and up.
Union County's vaccination portal: ucnj.org/covid19. If additional assistance is needed call 908-613-7829. Home-bound residents may be eligible for a home vaccination visit. To make an appointment, call the Union County Office of Health Management at 908-613-7829 during regular weekday business hours, or leave a call-back message after hours. For details about Union County's mobile COVID-19 vaccination services, testing, clinics, including locations and hours of operation please visit www.ucnj.org/covid19.
– – – – – – – – – – – – – – –
New Providence Municipal Alliance (www.newprov.org/municipalalliance) (NPMA) – The mission of the New Providence Alliance is to identify abuse environments and root causes within the community, assess needs, and implement effective education and prevention programs.
September is National Recovery Month. During Recovery Month, the NPMA aims to increase awareness and understanding of mental health and substance use disorders and encourage individuals in need of treatment and recovery services to seek help. Recovery Month celebrates individuals living lives in recovery and recognizes the dedicated workers who provide the prevention, treatment, and recovery support services that help make recovery possible. "Recovery is for Everyone: Every Person, Every Family, Every Community."
During National Recovery Month and throughout the year spread the message that:
• Behavioral health is essential to health.
• Prevention works.
• Treatment is effective.
• People recover.
Refer to the Recovery Month website, recoverymonth.net, for additional information on the initiative.
Visit NP Alliance on Facebook or follow them on Instagram on Instagram at @newprovalliance, and visit their website to learn more about how the New Providence Alliance continues to bring programs to our community in an effort to educate people on the dangers of substance use.
– – – – – – – – – – – – – –
MENTAL HEALTH AWARENESS: New Providence Cares About Your Mental Wellness
The New Providence Mental Health Advocacy and Education Committee is spearheaded by Council President Nadine Geoffroy and Councilwoman Lisa McKnight. For more information please contact Nadine Geoffroy at ngeoffroy@newprov.org.
988 is now the official national Suicide and Crisis Lifeline. If you or someone you know is experiencing a mental health crisis call or text 988 anytime anywhere 24/7 for help and support, or just to talk. You're not alone. We're all in this together. To learn more about the 988 system in NJ, please watch this presentation created by the Division of Mental Health and Addiction Services: https://www.youtube.com/watch?v=ZuKhq-VPVjU
Veterans are invited to a bi-monthly, veteran-run peer support & discussion group, Warriors Welcome. This group is no-cost, confidential and a judgment-free zone. They meet every 1st and 3rd Friday: bit.ly/WarriorsWelcomeNJ.
Virtual Muslim Mental Health community group meets Sundays 7pm. Join for a discussion of mental health concerns, wellness goals, and more. Newcomers welcome! bit.ly/MuslimGroupNJ
– – – – – – – – – – – – – – –
UPCOMING:
Through September 5th: New Jersey back-to-school sales tax holiday on: school supplies, school art supplies, school instructional materials, computers, school computer supplies.
Sept 3rd (Sat) 9am-1pm: Recycling at the DPW Yard
Sept 5th (Mon) Labor Day – Borough Offices Closed
Sept 6th (Tues) 7:30pm : Planning Board Meeting at Borough Hall
Sept 7th (Weds) 10am: Senior Center "Walking Club" every Wednesday 10am at the DeCorso Center
Sept 9th (Fri) 6:30pm-8pm: 'Chat with the Mayor' in the Lincoln Meeting Room Borough Hall.
Sept 10th (Sat) 10am – Household Hazardous Waste Recycling: www.ucnj.org/recycle
Sept 10th (Sat) 1:00pm: NJ Film School presentation on the History of Zombies in Film & Video Games at the Library. Open to Teens & Adults. Email NPMLTeens@gmail.com to register
Sept 12th (Mon) 7pm-9pm: Batter-Up Let's Talk Baseball at the Library
Sept 12th (Mon) 8pm: Board of Adjustment Meeting
Sept 13th (Tues) 1pm: Movie at the Library, "Downton Abbey A New Era"
September 13th (Tues) 7:30pm: Brough Council Meeting at Borough Hall.
September 17th (Sat) 9am – 3pm: New Providence Book Festival returns on the grounds of the Salt Box Museum.
September 17, 2022 9am-2pm (rain date Sun Sept 18th): Annual Freecycle-Fest Event hosted by our Sustainability Committee will be held at the New Providence Community Pool parking lot. This is an opportunity to bring unwanted items to a central location in New Providence for "recycling" with other families.
Sept 17th (Sat) 9am-2pm (rain date Sun Sept 18th): Plant and Seed Exchange, new addition to this year's FreecycleFest! (rain-date Sunday, Sept 18th). For guidelines and tips on seeds and cuttings, check out https://tinyurl.com/Plant-Exchange-NP
Sept 22nd (Thurs) 7pm William Paca Club: Come Support Mayor Al Morgan! All welcome! Free. Refreshments served.
Sept 23rd (Fri): Spanish story time for 3-6 year olds at the library for Hispanic Heritage Month.
Sept 27th (Tues) Borough Council Meeting at Borough Hall
Sept 29th (Thurs) 5pm: PBA 132 Happy Hour Event at Moe's Bistro. $30
Sept 30th (Fri): Spanish story time for 3-6 year olds at the library for Hispanic Heritage Month.
Oct 1st (Sat) 8am-3pm The New Providence PBA 132's 5th Annual Car Show at 1378 Springfield Ave in New Providence (Community Pool Parking Lot). Rain date is Oct 2nd. Food trucks! This fun free event showcases some really amazing cars. Car lovers and friends alike will really enjoy this show! Don't miss it!
Oct 6th Mayor and Council Debate for the upcoming election. Details forthcoming.

Oct 8th (Sat) 7pm-11pm: New Providence Education Foundation Fall Festival at Untied to benefit our schools. Live Band. Cornhole Tournament. Silent Auction. Ticket information coming soon!
Oct 8th to Nov 1st: Scarecrows returning to our downtown! See New Providence Business Community for sign up and details! Deadline to enter contest is Oct 1st! http://www.newprovbiz.com/calendar/halloween-downtown-trick-or-treating/
October 8th 2pm-3:30pm: National Hispanic Heritage Celebration in Centennial Park with arts, crafts, Latin and folklore dances, a Zumba demonstration, a display of traditional dresses, music, songs, and fun for the whole family! This wonderful event is free and open to all!
Oct 10th (Mon) 7pm-9pm: Batter-Up Let's Talk Baseball at the library
October 15th (Sat)1pm and 2pm: Cemetery Tours at the Presbyterian Church (See New Providence Historical Society section for sign up details).
October 22nd (Sat) 3pm: New Providence Annual Decorated Pumpkin Contest and Trunk-or-Treat Event at the New Providence Community Pool Parking Lot. Everyone is invited to attend and participate in this fun free family friendly event!
Oct 29th (Sat): Downtown Trick-or-Treating sponsored by our generous businesses. Stores with orange pumpkins on their doors or in their windows will greet trick-or-treaters with candy and fun surprises.
Oct 30th (Sun) 10am-4pm: New Providence Street Fair The fair will be held on Springfield Avenue, between South Street and Livingston Avenue
Nov 6th (Sun) 10am-4pm: Paca Club Craft Sale at the William Paca Club
Nov 8th (Tues) – ELECTION DAY! Don't forget to VOTE!
Nov 14th (Mon) 7pm-9pm: Batter-Up Let's Talk Baseball at the library
Dec 2nd: "Night of a Thousand Stars" Community Tree Lighting Event in Centennial Park
Dec 12th (Mon) 7pm-9pm: Batter-Up Let's Talk Baseball at the library
– – – – – – – – – – – –
QUICK LINKS:
Borough Council Meetings: youtube.com/channel/UCZzCgFvlBgpSfW-JEVRMXsA
Borough Contact Information and Action Line: www.newprov.org/citizen-action-line
New Providence (Mailed) Calendar: https://www.newprov.org/download/Borough%20Newsletters/2022/2022-Annual-Calendar-most-recent.pdf
NPHS Athletics Calendar: https://sites.google.com/npsdnj.org/nphs-athletics/athletic-schedule
NPTV Schedule: www.sites.google.com/npsdnj.org/cook-nptv/nptv-schedule
Public Works: www.newprov.org/department-of-public-works
Recycle Coach: www.newprov.org/recycle-coach
Senior Citizen Bus: Transportation (with pick up at your home) is available for residents 55+ to ShopRite every Tuesday morning at 8am. Please call the Center at (908) 665-0046 by Monday morning to sign up or for more information.
Smart911 Community Alert System: newprov.org/2022/04/register-today-for-smart-911
Turkey Tracks Newsletter of the New Providence Historical Society: http://newprovidencehistorical.files.wordpress.com/...
– – – – – – – – – – – – – – –
MISSED AN UPDATE? Mayor's Community Updates can be found on the borough website and at https://www.mayoralmorgan.com/community-updates
– – – – – – – – – – – – – – –
KEEP INFORMED with Borough information:
Website – newprov.org
Facebook – @newprovnj
Twitter – @newprovnj
– – – – – – – – – – – – – – –
FUN FACT: The first Monday in September is celebrated nationally as Labor Day. The Labor Day holiday grew out of the late 19th century organized labor movement, and it quickly became a national holiday as the labor movement assumed a prominent role in American society. President Grover Cleveland (who was born and later retired in NJ!) helped make Labor Day a national holiday. President Cleveland signed an act in 1894 establishing the federal holiday, which was approved on June 28, 1894. Labor Day honors organized labor and also marks the perceived end of the summer season. Wishing all a very Happy Labor Day!
Please feel free to contact me anytime about any issue. Your concerns are my concerns. We are here to serve you. We are a team effort here in NP! Thank you to our outstanding Borough Council, our dedicated administration, employees and staff, our selfless volunteers, our generous local businesses and to all of you for making our community such an incredible place to live and work. Please be sure to support all our wonderful local establishments and SHOP NP! Have a great weekend and week ahead! We are Pioneer Strong!
– Mayor Al Morgan